World Tourism Day observed in Rajshahi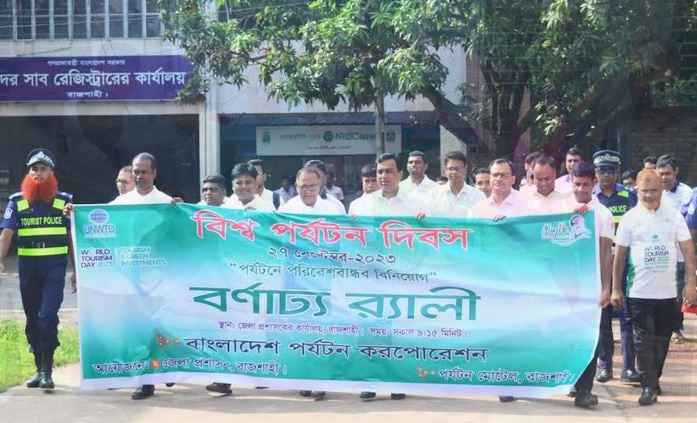 RAJSHAHI, Sept 27, 2023 (BSS) - The World Tourism Day was observed today with the call for promoting the tourism sector by flourishing it in many areas of the region as it's prospects are very bright here.
To mark the day, the district administration and Bangladesh Parjatan Corporation jointly brought out a rally from the collectorate building premises followed by a discussion at the Parjatan Motel Conference Hall.
The theme for World Tourism Day 2023 is "Tourism and Green Investments" emphasizing the importance of making tourism more sustainable and environmentally friendly.
Green investments involve using money and resources to support eco-friendly practices in the tourism industry.
Deputy Commissioner (DC) of Rajshahi Shamim Ahmed addressed the meeting as the chief guest highlighting the significance of the day, while Parjatan Motel Manager Motaher Hossain was in the chair.

Deputy Director of Local Government Ashraful Islam, Additional DCs Sarker Aasim Kumar, Kolyan Chowdhury and Anisul Islam also spoke on the occasion.

DC Shamim Ahmed said internal tourists can be the big source of revitalizing the tourism sector in the post-Covid-19 time. So, there is now way but to reach the Bangladesh Tourism Board activities to the marginal level.

He told the meeting that formulation work of a 20-year master plan has started for the development of the country's tourism sector. Upon successful implementation of the plan a great achievement will come in the sector, he added.

Shamim Ahmed said an investment-friendly atmosphere is needed for successful promotion of tourism in addition to improving communication and services along with need-based infrastructural development.

Arrival method of the tourists needs to be easy for the sector.

Tourism is now not only tourism but also a big scope of employment generation.

If tourism flourishes, employment will be generated in all the districts equally.

The master plan should be formulated taking all the issues into consideration.