Collective efforts indispensable to protect domestic workers rights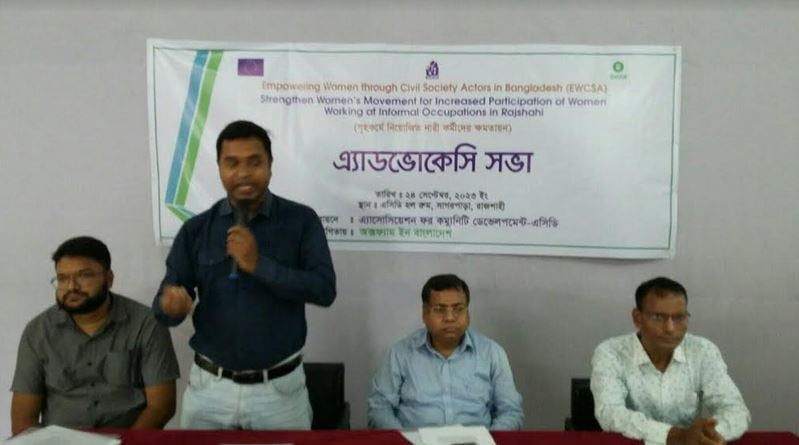 RAJSHAHI, Sept 24, 2023 (BSS) - Collective efforts of all the government, non-government and volunteer organizations concerned can be the effective means of protecting the legitimate rights of the domestic workers.

In the present social context, many of the solvent families, even some of the low-incoming ones, are seen dependent on the household workers. So, right-protection of domestic workers has become an urgent need.

Present government has formulated the 'Domestic Workers Protection and Welfare Policy, 2015' with the main thrust of ensuring protection and welfare of all the household workers.

Government officials and development activists made the observation while addressing an advocacy meeting on the issue here today.

On behalf of its "Strengthen Women's Movement for Increased Participation of Women Working at Informal Occupations in Rajshahi'' project, Association for Community Development (ACD) organized the meeting at its office conference hall in Rajshahi city.
ACD has been implementing the project under "Empowering Women through Civil Society Actors in Bangladesh (EWCSA)' supported by OXFAM in Bangladesh and co-funded by the European Union.

Around 400 domestic female workers are getting capacity building support in terms of ensuring their legitimate rights through empowerment with the project interventions.

Initiative has also been taken to bring them under awareness and orientation programmes related to their human rights and gender based discrimination, violence and sexual exploitation they face in their workplace.

The 15-month project is being implemented in Ward Numbers 18, 19, 24 and 28 in RCC for empowering marginalized women working in informal occupations and strengthening public institutions to ensure responsiveness towards gender concerns.

ACD Project Coordinator Monirul Islam gave an overview of the project along with its aims, objectives and implementation strategy, while Julekha Khatun, Community Mobilizer of the project, welcomed the participants together with illustrating the 'Domestic Workers Protection and Welfare Policy, 2015'.

As a whole, the project will sensitize the community to promote increased participation of women working in informal occupations through community radio.
Divisional Director of the Department of Mass Communication Farhad Hossain addressed the meeting as chief guest, while Deputy Inspector General of Department of Inspection for Factories and Establishments Ariful Islam spoke as special guest.