Strategies taken to reduce tax burden on people: CCC Mayor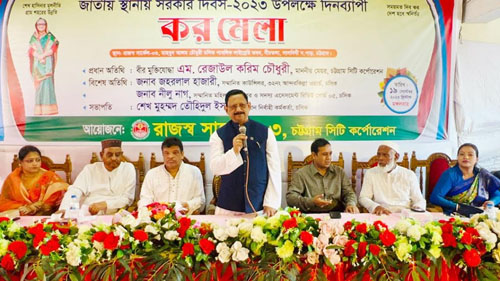 CHATTOGRAM, Sept 19, 2023 (BSS) - City Mayor Rezaul Karim Chowdhury said the strategy of increasing the tax net has been taken to reduce the tax burden on individuals.

"We are trying to increase the revenue collection to keep the ongoing development spree in the city. Tax evaders are being brought under the tax net and exemptions are given to mass people," he said.

Rezaul Karim Chowdhury said this while inaugurating the Tax Fair as the chief guest at the city's Laldighi CCC Library Building today.

Mayor Rezaul Karim said, "I saw that the people were panicking about the valuation of holding taxes when I took responsibility as mayor.".

He said the city corporation organizes public hearings in every tax circle to ease the tax burden of the people.

"After listening to the people's statements, I verified and brought the appeals to the level of domestic tax tolerance of the taxpayers," he added.

CCC Chief Executive Officer Sheikh Muhammad Touhidul Islam presided over the function while Councilors Zohar Lal Hazari and Neelu Nag were present as special guests.

Councillors - Saleh Ahmad Chowdhury, Haji Nurul Haque, Rumki Sengupta, Chief Revenue Officer Nazrul Islam, Mayor's Private Secretary Abul Hashem and Tax Officer were also present at the function.