National Local Government Day observed in Natore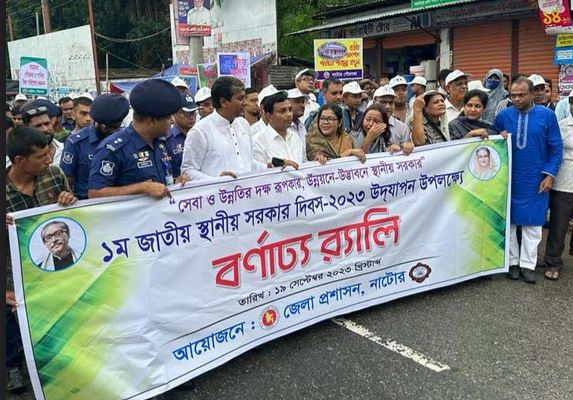 NATORE, Sept 19, 2023 (BSS)- The National Local Government Day-2023 was observed in the district as elsewhere in the country today in a befitting manner.
This year's theme of the day is "Efficient Architect of Service and Improvement, Local Government in Development-Innovation".
Marking the day, the district administration chalked out elaborate programmes in association with Local Government Engineering Department (LGED) in the district.
A colorful rally was brought out from the Kanaikhali Old Stadium in the town which paraded the main roads of the town and ended at the Anima Chowdhury auditorium this morning.

After the rally, a discussion was held at the Anima Chowdhury auditorium while Member of Parliament of Natore-2 constituency (Natore Sadar and Naldanga) Md. Shafiqul Islam Shimul addressed the function as the chief guest with Deputy Commissioner (DC) Abu Nasher Bhuiyan in the chair.
Member of Parliament for Natore and Naogaon women's reserved seat, Ratna Ahmed, spoke as the guest of honor on the occasion.
Superintendent of Police Md. Tariqul Islam, Deputy Director of Local Government Department Md. Ashraful Islam, Chairman of Natore Sadar Upazila Parishad Md. Shariful Islam Ramzan and Mayor of Natore Municipality Uma Chowdhury Jolly, among others, spoke.
On the occasion, the upazila parishads and upazila administrations organized a three-day national local government development fair in seven upazilas of the district, Deputy Director of Local Government Department, Md. Ashraful Islam said.