National Local Government Day observed in Naogaon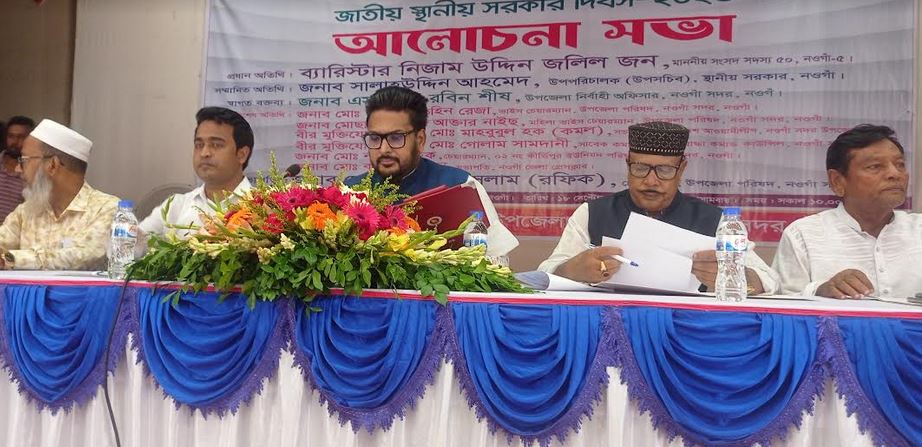 NAOGAON, Sept 18, 2023 (BSS)- The National Local Government Day-2023 was observed in the district as elsewhere in the country today in a befitting manner.
Marking the day, the district administration chalked out elaborate programmes in association with Local Government Engineering Department (LGED).
A colourful rally was brought out from Sadar Upazila Parishad premises in the town with the participation of government officials, public representatives, officials and employees of the local government bodies and people of all walks of lives which paraded the main roads of the town and ended at the same place.

After the rally, a discussion was held at the Upazila Parishad auditorium while Naogaon-5 constituency member of parliament Barrister Nizam Uddin Jalil John addressed the function as the chief guest with Sadar Upazila Parishad Chairman Alhaj Md Rafiqul Islam in the chair.
Deputy Director of Local Government Department (Deputy Secretary) Salahuddin Ahmed, Sadar Upazila Parishad Vice-Chairman Ilyas Tuhin Reza, Women Vice-Chairman Mosha Shahnaz Akter Naich, Naogaon Sadar Upazila Awami League President Md Mahbubul Haque Kamal, Naogaon Sadar Upazila Muktijoddha Sangsad former Commander Golam Samdani, Kirtipur Union Parishad Chairman Md Nazmul Haque and Naogaon District Press Club President Md Kayes Uddin, among others, were present.
Sadar Upazila Nirbahi Officer (UNO) SM Robin Sheesh gave a welcome speech in the discussion.