Protecting biodiversity from further degradation underscored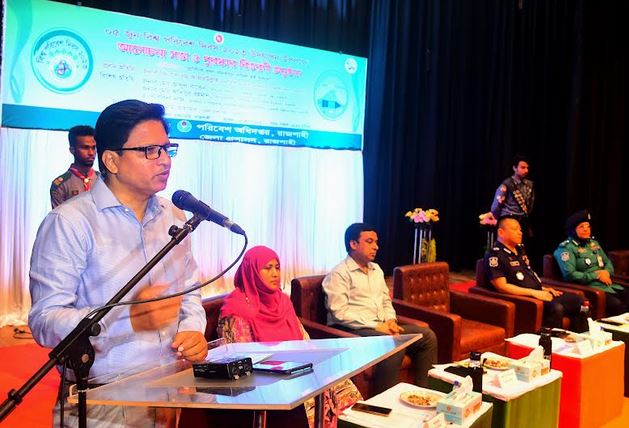 RAJSHAHI, June 5, 2023 (BSS) - Generating awareness among the public in general can be the best way of survival of all living beings through protecting the environment and wildlife from further degradation.

Environment has been facing a serious threat due to various natural and man made catastrophes posing an identical threat to the planet Earth at present. So, all the government, non-government and volunteer organizations should forward and work together.

Experts and administrative officials came up with the observation while addressing a post-rally discussion on the issue today.

The Department of Environment (DoE) and District Administration jointly organised the discussion at Shilpakala Academy auditorium in observance of the World Environment Day-2023.

Under the #BeatPlasticPollution campaign, the theme of World Environment Day-2023 is "Ecosystem Restoration".

On the occasion, prizes were distributed among the winners of art competitions for children.

Commissioner of Rajshahi Division GSM Jafarullah addressed the meeting as chief guest, while Additional Commissioner of Rajshahi Metropolitan Police Shamsun Nahar and Additional Deputy Inspector General of Police Naresh Chakma spoke as special guests with Deputy Commissioner Shamim Ahmed in the chair.
Prof Abdullah Al Faruque from the Department of Geography and Environmental Sciences at Rajshahi University gave an illustration on the issue, while Mahmuda Parveen, Deputy Director of DoE, Rajshahi, welcomed the participants.
He expressed concern over an increasing use of plastics for packaging perishable foods. He said city corporations and municipalities across the country are not yet ready to adopt the strategy of reduce, reuse and recycle, a 3R strategy formulated by DoE.

Prof Abdullah called for creating awareness among all concerned including the younger generations to prevent environmental degradation that severely threatens the existence of the whole planet, its habitation and civilization.
Elaborating the aspects of protecting the environment, Commissioner Jafarullah mentioned that substantial and sustainable reduction of plastic pollution can be the vital means of protecting water bodies and environment from further degradation.
Emphasis should be given on providing positive incentives for the reduction of emissions from deforestation and forest degradation and enhancing biodiversity conservation as well as promoting sustainable development goals of the region.
Currently, plastic pollution is being judged as a major threat to the whole ecosystem. So, creating public awareness on the issue has become indispensable.

Earlier, a colourful rally was brought out from city's Parjatan Motel premises that ended at the meeting venue after parading main thoroughfares.