Massive tree plantation stressed to reduce environmental degradation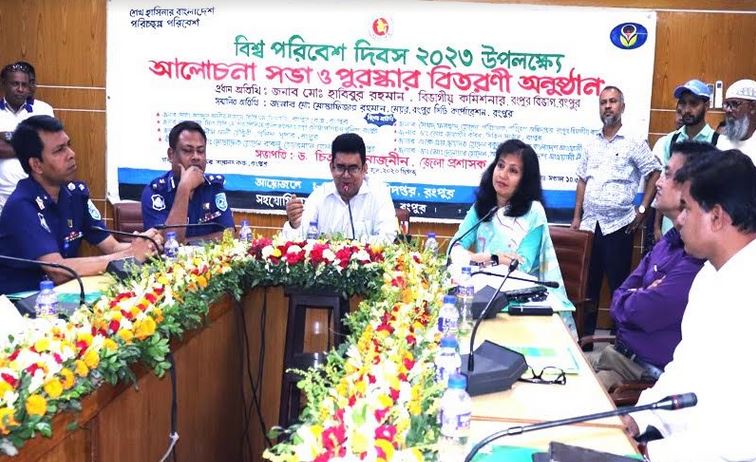 RANGPUR, June 5, 2023 (BSS)-Amid adverse effects of climate change, massive tree plantation has become essential to reduce environmental degradation and growing threat to life, livelihoods, ecosystems and habitation on the earth.

The observation came today at a post-rally discussion at the conference room of the Deputy Commissioner here.

The district administration and the Department of Environment (DoE) jointly organised the discussion in observance of the World Environmental Day- 2023 with the theme 'Solutions to Plastic Pollution'.

Elaborate programs, including a colorful rally, painting competitions for children on environment, distribution of saplings, tree plantation, distribution of prizes and cultural functions, were chalked out marking the day.

Earlier, Additional Divisional Commissioner (General) Md. Abu Jafar led the rally with the participation of officials, students, teachers, politicians, professionals, civil society members, community leaders and elite on the city streets.

Later, Divisional Commissioner Md. Habibur Rahman attended the discussion as chief guest with Deputy Commissioner Dr. Chitralekha Nazneen in the chair.

Additional Deputy Inspector General (Operations) of Bangladesh Police Rangpur Range SM Rashidul Haque, Rangpur Divisional Director of the DoE Syed Farhad Hossain and Superintendent of Police Md. Ferdous Ali Chowdhury addressed the discussion as special guests.

Addressing on the occasion, Syed Farhad Hossain discussed on the ongoing environmental degradation and pollution being caused by climate change due to global warming and unbridled use of plastic goods and polythene.

He narrated severe consequences of climate change, environmental degradation and plastic pollution.
He also discussed massive steps taken by the government to cope with the situation and urged everyone to work in saving the planet from the unthinkable catastrophes through tree plantation and other measures.

The speakers laid importance on reducing emission of industrial smokes, release of poisonous wastes, felling of trees, ensuring better water and waste management alongside resolving plastic pollution to reduce ecological degradation.

They called for innovating and adopting effective technologies alongside massive tree plantation to cope with the adverse impacts of climate change and improve the environment clean and keep crop production increasing to ensure food security.

The chief guest suggested everyone to plant tree saplings and take steps to reduce environmental degradation and save agriculture, ecology, biodiversity and ecosystems for a safer Bangladesh and the planet as a whole.

Later, prizes were distributed to the winners of different competitions arranged for children and students marking the day.