World Milk Day observed in Netrakona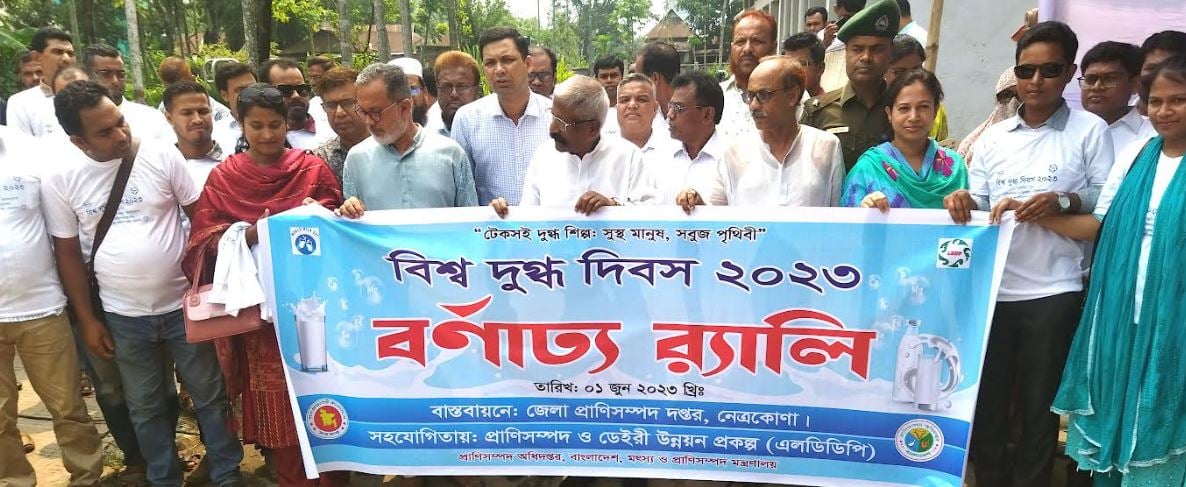 NETRAKONA, June 1, 2023 (BSS) - World Milk Day-2023 was observed here today in a befitting manner.
The main theme of the day this year was "Sustainable Dairy, Good for the Planet, Good for You".
Netrakona district administration and district livestock department jointly chalked out different programs including bringing out a colorful rally and holding a discussion meeting marking the day.
As part of the day's programs, a colorful rally was brought out from the district livestock office premises and the rally was ended at the same place after parading main roads of the district town.
The rally was followed by a discussion meeting on the district livestock office premises.
Chaired by additional deputy commissioner (general) Mohammad Mamun Khandakar, the discussion was addressed, among others, by chairman of Netrakona Zila parishad Asit Kumar Sarker Sazal, chairman of Netrakona sader upazila parishad Ataur Rahman Manik, panel chairman of Netrakona municipality SM Mahosin Alam and district livestock officer Dr. Mohammad Wahedul Alam.
The speakers called for boosting of milk production and consumption to keep the people including children free from malnutrition problems for building a healthy society as well as the healthy nation.
"Milk consumption is very necessary for both physical and mental development of the children and normal growth and development of the human body " they said, adding that the present government under the dynamic leadership of premier Sheikh Hasina has been implementing different programs to boost milk production through developing the country's livestock sector.