World Milk Day observed in Gaibandha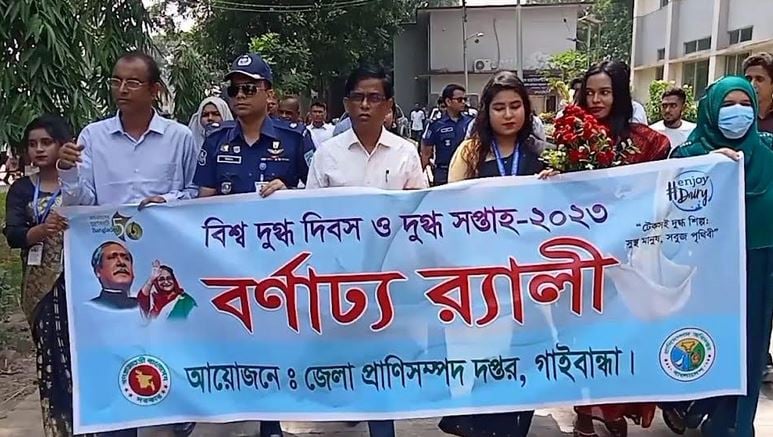 GAIBANDHA, JUNE 01, 2023 (BSS)-The World Milk Day-2023 was observed in the district as elsewhere in the country and the globe today to raise awareness among the people about the incredible merits of drinking milk.
This years' theme of the day is "Sustainable Dairy, Good for the Planet and Good for You".
Marking the day, the Department of Livestock chalked out elaborate programmes in cooperation with the district administration and the Institute of Livestock, Science and Technology (ILST) here.
In the morning, around 11am, a rally was brought out from the ILST and ended at the same venue after parading the main roads of the district town. Deputy Commissioner (DC) of Gaibandha Oliur Rahman led the rally.
Then, a discussion was also held at the hall room of the ILST, located at the Board Bazar of the town with DC Oliur Rahman in the chair.
Whip of the Jatiya Sangshad and local lawmaker MahabubAra Begum Gini virtually joined the programme as chief guest and Additional Police Super Ibne Mizan spoke at the event as special guest.
District Livestock Officer (DLO) Dr. Masudur Rahman Sarker joined the function as chief discussant.
Terming the milk as an extremely impressive source of calcium, the DLO urged all to create much awareness among all sections of people about the incredible merits of milk.
The DLO also urged all to take 300ml of low-fat milk per day to be healthy and make the human body physically fit Whip Gini in her speech said the government led by Prime Minister Sheikh Hasina has been implementing various programmes for overall development of the livestock department.
Because of it, the milk production has increased more compared to the previous time and the produced milk is playing significant role to meet up the deficiency of protein side by side with manufacturing milk mixed food items in the country, she added.
A large number of learners of the ILST, invited guests and journalists attended the programmes.