Boosting milk production, consumption crucial to prevent malnutrition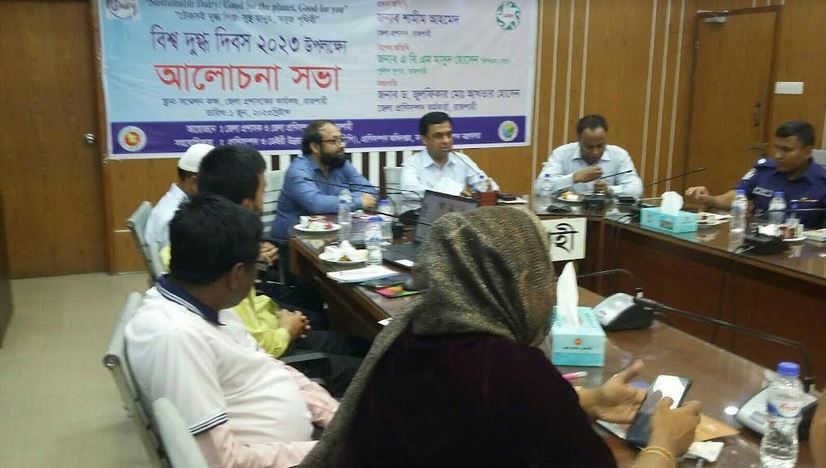 RAJSHAHI, June 1, 2023 (BSS)- Livestock experts at a post-rally discussion unequivocally called for boosting milk production and its consumption to eradicate the malnutrition problems for building a healthy society and the nation as a whole.
Highlighting the enormous aspects of milk to the nation-building process, they unanimously viewed that milk consumption is very important for both physical and mental development of the children. So, utmost emphasis should be given on ensuring fair price of milk and its safe supply.
District Administration and the Department of Livestock Services (DLS), Rajshahi jointly organised the discussion at the conference hall of Deputy Commissioner (DC) to mark the 'World Milk Day- 2023' today. The Livestock and Dairy Development Project supported the rally and meeting.
The main theme of the day this year was "Sustainable Dairy, Good for the Planet, Good for You".
DC Shamim Ahmed and Additional DC Kolyan Chowdhury addressed the discussion as chief and special guests respectively, while District Livestock Officer Dr Zulfikar Muhammad Akhter Hossain was in the chair.
Senior Scientific Officer Dr Asim Kumar Pramanik and Veterinary Surgeon Dr Saila Sharmin also spoke disseminating their expertise on the issue, while Upazila Livestock Officer Dr Subrata Kumar Sarker welcomed the participants.
Taking part in the discussion dairy farmers Lovely Akhter, Sadeque Ahmed, Dr Golam Rahid and Bablur Rahman shared their experience related to their ventures and successes. They also called for solving their existing problems to make the business more profitable and sustainable.
Additional District Livestock Officer Dr Fazley Rabbi highlighted the aspects of milk consumption in terms of building a healthy and knowledgeable nation during his keynote presentation.
He defined that protein is the vital nutrition for normal growth and development of the brain and other essential nutrients of the human body while livestock is the pivotal source of nutrition.
Illustrating the importance and significance of the day besides giving an overview of milk production in Rajshahi division Dr Rabbi mentioned that large-scale promotion of the livestock sector is very important to remove the existing protein deficiency alongside ensuring food security.

He said many of the people suffer from malnutrition, especially lack of animal protein like milk, meat and egg. He revealed that production of huge amounts of meat through the indigenous beef-cattle improvement would supply low cost meat for people and it will ultimately protect them from malnutrition.
In his remarks, DC Shamim Ahmed attributed that the present government under the prudent and visionary leadership of Prime Minister Sheikh Hasina has been implementing a gigantic project at present to mitigate the country's protein deficiency through boosting the livestock sector.
He urged the field level officials and staff concerned to supplement the government endeavor through discharging their respective duties with utmost sincerity and honesty.