World No Tobacco Day observed in Shariatpur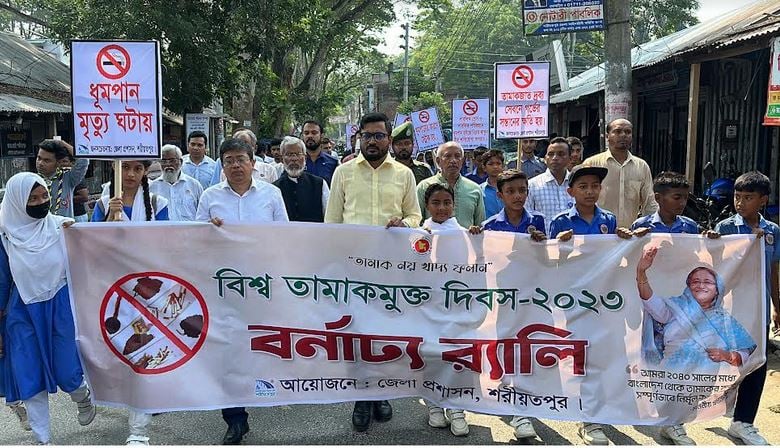 SHARIATPUR, May 31, 2023 (BSS) - World No Tobacco Day-2023 was observed in the district in a befitting manner highlighting the health and other risks associated with tobacco consumption and advocating for effective policies to reduce tobacco consumption.
This year's theme of the day is "Grow Food, Not Tobacco". This theme aims to raise awareness about alternative crop production and marketing opportunities for tobacco farmers and encourage them to grow sustainable, nutritious crops.
On the occasion, a rally was brought out from the deputy commissioner's office which paraded the important streets this morning.
The district administration also arranged a discussion at the conference room of the deputy commissioner office this morning with deputy commissioner (DC) Md Parvez Hasan in the chair.
Civil Surgeon of the district Dr. Abdul Hadi Mohammad Shah Paran, Zilla Parishad Chief Executive Officer Md. Shamim Hossain, Additional Superintendent of Police Tanvir Haider Shawon and Shariatpur Municipality Mayor Parvez Rahman John, among others, spoke on the occasion.
The speakers emphasized on creating awareness to prevent tobacco consumption and executing the laws and regulations properly to save the young generation.
Besides, different anti-tobacco organisations have chalked out various programmes on the occasion of the day.