Integrated efforts imperative to check tobacco use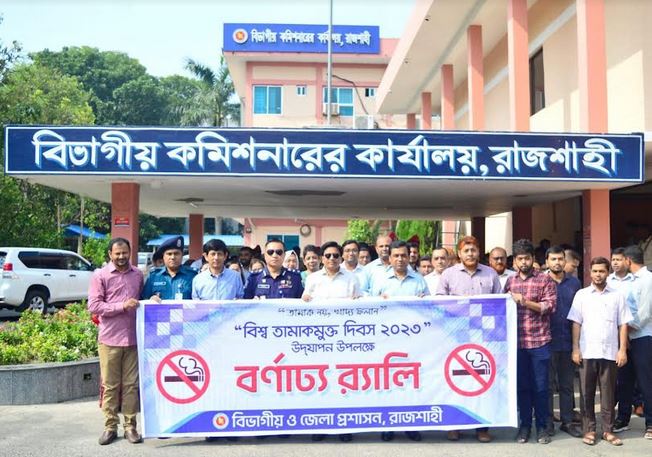 RAJSHAHI, May 31, 2023 (BSS)- Integrated efforts of all government and non-
government entities concerned can be the crucial means of strengthening the
anti-tobacco campaign for protecting many people from various non
communicable diseases from both active and passive smoking.
Utmost emphasis should be given on highlighting health and other risks
associated with tobacco use apart from advocating for effective policy to cut
tobacco consumption.

Administrative officials and law enforcers came up with the observation while
addressing a post-rally discussion in the city today.
Divisional and District administrations jointly organised the meeting at the
office conference hall of Divisional Commissioner in observance of the World
No Tobacco Day-2023.
This year's theme of the day is "Grow Food, Not Tobacco". This theme aims to
raise awareness about alternative crop production and marketing opportunities
for tobacco farmers and encourage them to grow sustainable, nutritious crops.
Commissioner of Rajshahi division GSM Jafarullah addressed the meeting as
chief guest with Deputy Commissioner Shamim Ahmed in the chair.
Additional Commissioner Dr Mokshed Ali welcomed the participants giving an
illustration on aspects of the Day.
Imposing restrictions on smoking in public places and transports is very
important for protecting many non-smokers from various non-communicable
diseases caused by smoking.

Use of tobacco items causes many non-communicable diseases like cancer, heart
disease, stroke, diabetes, tuberculosis and chronic respiratory disorder.

Divisional Director of Local Government Enamul Haque, Additional Commissioner
Imtiaz Hossain, Additional Commissioner of Rajshahi Metropolitan Police
Shamsun Nahar, Additional Deputy Inspector General of Police Naresh Chakma
and Deputy Director of Department of Narcotics Control Alamgir Hossain also
spoke.
Commissioner Jafarullah highlighted the risks of tobacco on health and called
for full-length enforcement of the tobacco control law to cut tobacco use in
the country.
He urged all to take comprehensive measures to raise voice against tobacco
use to build a tobacco-free society.
Commissioner Zafarullah also said the government has amended the law to make
it more stringent because of growing tobacco use in the country. As per the
law, the selling of cigarettes to those below 18 has been banned.

He said mobile courts should be conducted against all sorts of violations of
the law, adding that all the district administrations should supplement Prime
Minister Sheikh Hasina's announcement of freeing the country from tobacco use
by 2040.
The Health Sector of Dhaka Ahsania Mission Consortium (DAMC) also observed
the day here today through a rally and discussion meeting.
Kobir Hossain, Abdur Razzak, Muhammad Kamruzzaman and Mahamudul Hasan from
DAMC, among others, addressed the meeting disseminating their expertise on
the issue.