Int'l Day of UN Peacekeepers observed in Khulna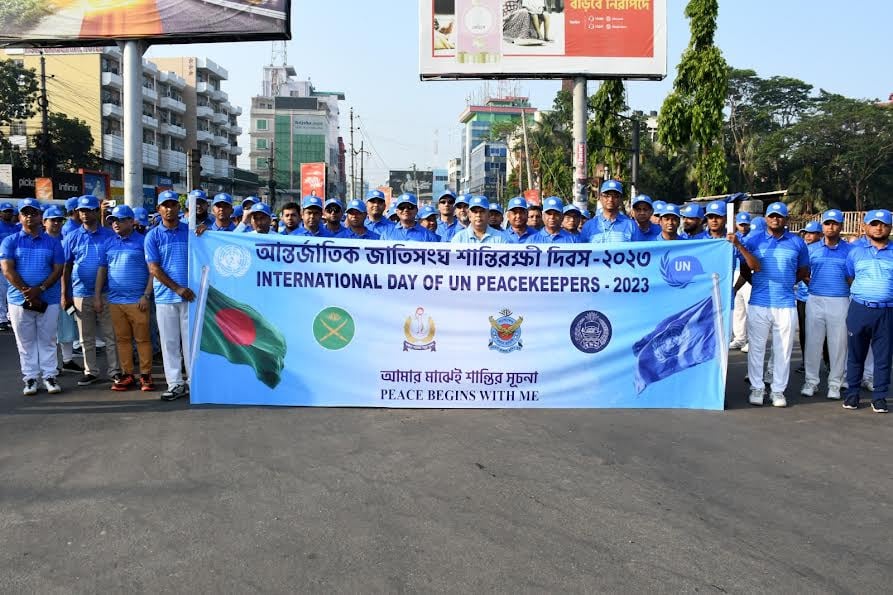 KHULNA, May 29, 2023 (BSS)-The International Day of United Nations Peacekeepers was observed in Khulna today in a befitting manner.
Organised by Bangladesh Navy of Khulna Naval Zone, a rally was held in City's Shibbari Intersection at around 7.10am. Regional Commander of Khulna Naval Zone Rear Admiral Shaheen Rahman delivered the welcome speech as chief guest.
Earlier, the chief guest inaugurated the rally through releasing balloons, festoons and pigeons as one-minute silence was observed to show the honour to the slain UN peacekeepers.
Bangladesh has already achieved dignity and honour for sending highest members of soldiers to the UN peacekeeping mission, he said, adding that at least 167 Bangladeshi members so far died during the perform of duties at the peacekeeping missions.
A total of 7,436 men are now engaged in 14 peacekeeping missions while at least 1,88,558 men has already completed their duties in 63 missions under 40 UN peacekeeping countries.
Among others, high officials of the Army, Navy, Police, UN organizations in Bangladesh, government officials of local administration and Bangladesh National Cadet Core attended the programme.
The International Day of UN Peacekeepers is being observed on May 29 every year across the world.
The purpose of observing the Day is to underscore the importance of maintaining global peace, pay tributes to those who are involved in the peacekeeping missions and honour the UN peacekeepers who lost their lives for peace.