Call for following Nazrul's ideal to establish enlightened society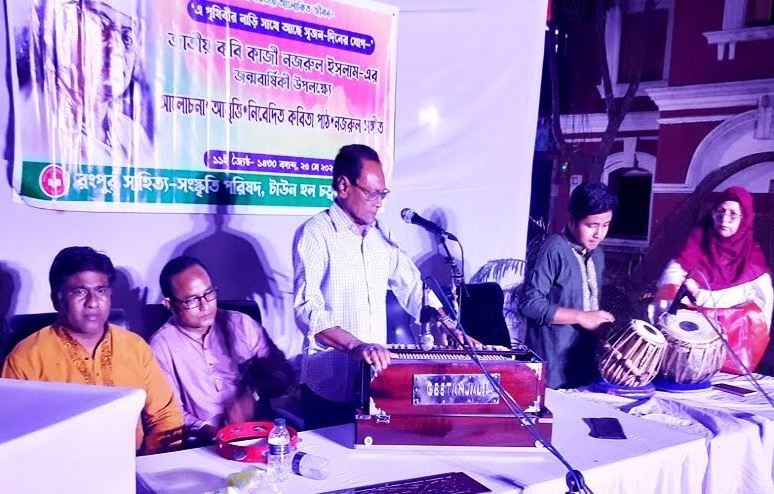 RANGPUR, May 26, 2023 (BSS) - Academics, literary and cultural personalities at a discussion have called for following the ideal of National Poet Kazi Nazrul Islam to establish an enlightened society based on universal humanism as dreamed by the rebel poet.

They made the call at the discussion organised by Rangpur Sahitya-Sanskriti Parishad (RSSP) at the Town Hall premises in the city on Thursday evening to celebrate the 124th birth anniversary of the national poet.

President of RSSP Hasna Hena Begum presided over the discussion followed by recitation of self-composed poems dedicated to the rebel poet, recitation of Nazrul's poems both collectively and individually and rendering of Nazrul Sangeet.

Convener of the Nazrul's birth anniversary celebration committee Sunil Sarkar delivered a welcome speech in the discussion moderated by RSSP General Secretary Mamunur Rashid.

Noted educationist and Nazrul researcher Dr. Nasima Akhter presented the keynote essay titled "Nazrul's life and works" in the discussion.

Former President of RSSP and its Adviser Dr. Mofizul Islam Maantu, Former Head of the Department of Bengali of Government Begum Rokeya College, Rangpur Professor Mohammad Shah Alam, former Joint Secretary Narayan Chandra Barma, Swattik Shah Al Maruf, writers Sheikh Amjad Hossain Sarkar, Advocate Masum Hasan and SM Habibur Rahman discussed on the keynote essay.

A number of poets and artists recited self-composed poems dedicated to the rebel poet, participated in recitation of Nazrul's poems collectively and individually.

Taking part in the discussion, the speakers discussed the poet's rebellious consciousness, thoughts on equity, communal harmony and humanism.

Dr. Maantu said Nazrul has been remaining as a shining star in our consciousness because he wrote throughout his active life for the right-less, deprived and exploited people and their freedom and independence.

"The nation would remain indebted forever to Father of the Nation Bangabandhu Sheikh Mujibur Rahman who could properly understand the rebel poet and brought him back to Bangladesh and duly honoured him," he said.

Narayan Chandra Barma said Nazrul was the greatest source of inspiration during the War of Liberation in freeing the nation from deprivation, exploitation, injustice and communalism to attain independence from the occupation forces.

In her concluding speech, Hasna Hena Begum urged young generations to follow the ideal and philosophy of the rebel poet to establish an equity-based society free from injustice, exploitation and communalism for welfare of the humankind.