Skill development crucial to build Smart Bangladesh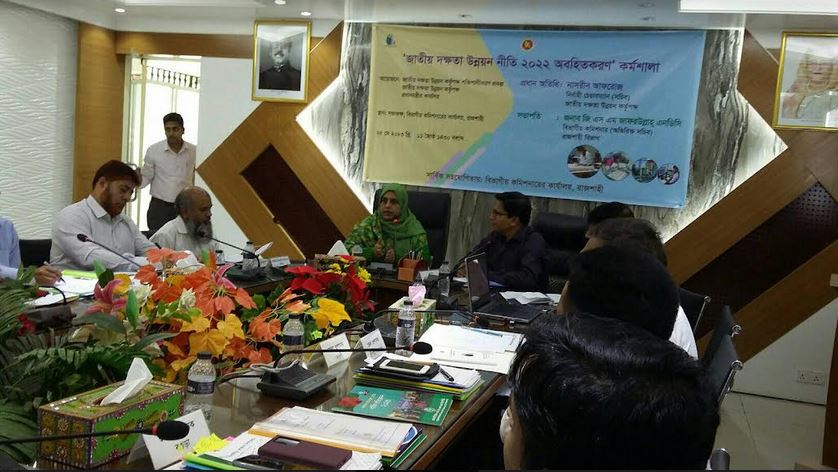 RAJSHAHI, May 25, 2023 (BSS) - Skill development in all the productive sectors can be the crucial means of building Smart Bangladesh envisioned by Prime Minister Sheikh Hasina.
There is no way but to promote skilled manpower for the smart and developed Bangladesh in 2041 and the present government under the visionary and prudent leadership of Prime Minister Sheikh Hasina has been working relentlessly to attain the cherished goal.
Administrative officials, experts and other stakeholders came up with the observation while addressing an advocacy workshop titled "National Skill Development Policy 022" here today.
National Skill Development Authority (NSDA) Strengthening Project belonging to the NSDA organized the workshop at the office conference hall of Divisional Commissioner.
NSDA Executive Chairman (Secretary) Nasreen Afroz addressed the meeting as chief guest with Divisional Commissioner GSM Jafarullah in the chair.
NSDA Member Kamrunnahar Siddiqua spoke as special guest, while Deputy Secretary Abu Wadud gave an illustration on NSDA along with its mandate and activities during his keynote presentation.
Additional Commissioner Dr Mokshed Ali, Deputy Commissioner of Chapainawabganj Galib Khan, local unit president of Bangladesh Women Chamber of Commerce and Industries Prof Rozety Naznin and President of Rajshahi Press Club Saidur Rahman also spoke.
NSDA Executive Chairman (Secretary) Nasreen Afroz said creating skilled human resources is their vision.
They are working with the mission of creating skilled human resources through planning and coordination of all skills development activities on the basis of national and international labor market demand.