'Bangladesh makes laudable progress in implementing child rights'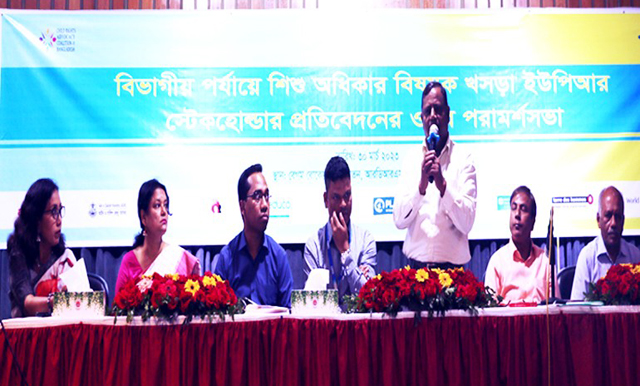 RANGPUR, March 31, 2023 (BSS) - Bangladesh has made laudable progress in implementing child rights to end child labour and ensure education and other rights of children in the country.

The observation came in a daylong consultation meeting on the draft Universal Periodic Review (UPR) report on child affairs held at Begum Rokeya auditorium of RDRS Bangladesh in the city on Thursday.

On behalf of the Child Rights Advocacy Coalition in Bangladesh and Joining Forces Bangladesh, Udayankur Seba Sangstha (USS), a local partner organization of Plan International Bangladesh, organized the consultation on the UPR report.

Director (Local Government) at the office of Rangpur Divisional Commissioner Md. Fazlul Kabir attended the meeting as the chief guest with Head of Central and Northern regions of Plan International Bangladesh Ashik Billah in the chair.

Advisor-Child Protection and Gender Justice of Plan International Bangladesh Rasheda Akther delivered a presentation on the draft report of UPR sharing the achievements, barriers and recommendations related to child rights protection achieved so far.

Education-Specialist of Plan International Bangladesh said the main objective of the event was to increase public awareness on the UPR process and know stakeholders' views on the draft UPR report on Child Rights from officials, experts, students, children, civil society and common people and incorporate their opinion in the draft report.

Deputy Inspector General of the Department of Inspection for Factories and Establishment, Rangpur Soumen Barua, Deputy Director of Rangpur Divisional Office of the Department of Social Services Anil Chandra Barman, Deputy Director of the Department of Women Affairs, Rangpur Kawsar Parveen and Upazila Secondary Education Officer of Jaldhaka Upazila in Nilphamari Chanchal Kumar Bhowmik spoke as special guests.

Taking party in the open discussion session, participants highlighted the current situation and recommendations on child protection in the country.

The chief guest said the present government has made huge progress in implementing child rights.

"There is a National Human Rights Commission which deals with various rights issues. Our goal is to end child labour. All children shall attend school and enjoy the right to education. Above all, it will contribute to building a Smart Bangladesh," he said.

USS Executive Director Alauddin Ali delivered the closing speech.

Among others, children, adolescents, youths, journalists, officials from various government departments and representatives of non-governmental organizations participated in the event.