Decorative flowers on islands turn the streets eye-catching in Rajshahi city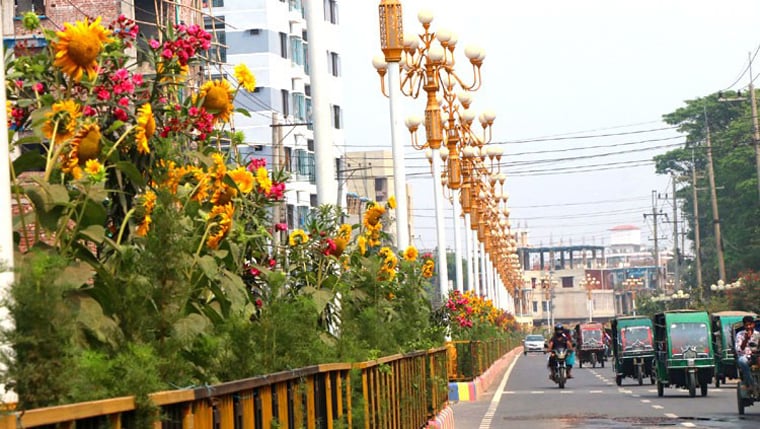 By Md Aynal Haque
RAJSHAHI, March 30, 2023 (BSS) - Varieties of decorative and ornamental flowers on islands have turned the streets eye-catching in the city making the public in general and other onlookers happy.
Colourful street lights also enhanced the beautification process to a greater extent as the Rajshahi City Corporation (RCC) installed a large number of lights on islands of different streets and road-crossings to meet the civic demands.
There are large numbers of orchid trees (Raktakanchan) on both sides of the roads with full-blooms drawing the attention of passersby.
Numerous sunflowers are now seen smiling on the road islands from Kasiadanga to bypass road and from Court to the historic madrasha ground.
Mind-blowing flowers are also seen on huge other sunflower plants on many other islands of the city streets.
RCC Chief Engineer Nur Islam told BSS that they have special plans for beautifying islands of more than 36-kilometer roads taking the issue of seasonal change into consideration. For this reason, the city dwellers are seeing flowers on islands, footpaths and road dividers round the year.
He said they have transplanted saplings of more than one lakh flower plants and trees during the last two years to mark the birth centenary of Father of the Nation Bangabandhu Sheikh Mujibur Rahman.

Simultaneously, many more other trees were also transplanted with initiatives of individual and institutional level benefiting the people in many ways.
Tree plantation activities on vacant places, road dividers and footpaths have been conducted continuously for the last couple of years. 6,000 flower and other ornamental and decorative tree saplings were already planted till the end of last year.

Road dividers and islands on around 24-kilometer roads were greened. Varieties of decorative and beautification trees were planted on the dividers, islands and footpaths of the city's main roads.

Besides, 7,520 saplings of fruit and herbal trees were distributed among the citizens for plantation through 40 ward councilors to expedite and encourage the social forestry activities.

Meanwhile, butterfly shaped street lights were attached to the poles on the newly elevated four-lane road from Bilsimla railway crossing to Kasiadanga crossing and another road from biman crossing to Bihash crossing.
Besides, the road from Court to Fire Service crossing via C&B crossing and another road from Alupatty crossing to Bhadra crossing via Talaimary crossing were illuminated with modern and decorative dream lights.

The street lighting arrangement has not only brought a new dimension to the city's security system but also added innovation to the beautification process.
Muhammad Asadullah, who came to Rajshahi city for a three-day visit from Kishoreganj this week, said he enjoyed the beautification. He opined that the Rajshahi city is small but neat and clean.
He also mentioned that the city transformed into a diversified shape after sunset which is absent in any other cities in the country.

Ahsan Habib, a marketing officer of a private organization, said he has to visit from one corner to another for his job purposes frequently.

Massive changes have been brought to the city's overall situation during the last four to five years. Particularly, expanded and widened roads and works of greenery and beautification have been drawing his attention.
Expressing his satisfaction over the changed situation Prof Golam Sabbir Sattar, Vice-chancellor of Rajshahi University, said the Rajshahi city has got a new look amid massive infrastructural development works with a competent leadership of its dynamic mayor AHM Khairuzzaman Liton during the last four to five years.

Broaden streets, cleaned atmosphere, road dividers with green trees and plants and crafts, improved civic amenities and eye-catching street lighting at night have made the city attractive enormously.
He said Mayor Liton is taking forward the metropolis as many development activities have become visible with the kind support of Prime Minister Sheikh Hasina.