Bravery of Rangpur Cantonment gherao martyrs remembered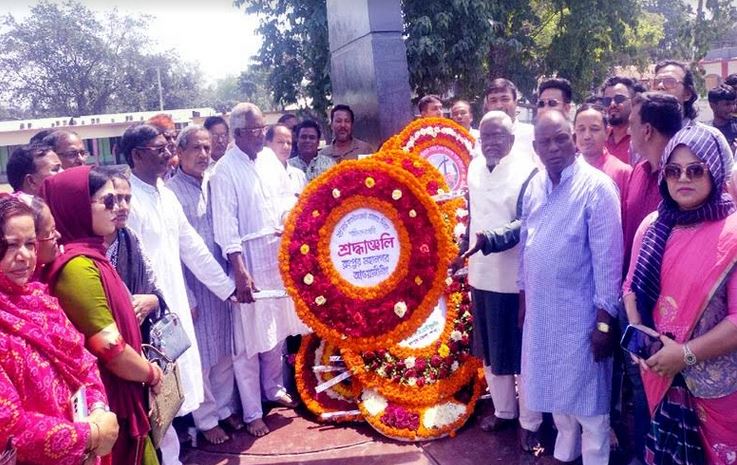 RANGPUR, March 28, 2023 (BSS)-The Officials, heroic freedom fighters and politicians today recalled the incomparable bravery of around 600 Bangalees who embraced martyrdom while encircling Rangpur Cantonment on March 28, 1971.

They recalled the supreme sacrifice of the martyred heroic Bangalees while paying rich tributes to them by placing wreaths at the Nishbetganj Baddhyabhumi Smriti Soudha 'Rakta Gaurab' in observance of the Rangpur Cantonment Gherao Day in the city today.

The observance began with placing wreaths at the "Rakta Gaurab" Memorial by the high officials and people from all walks of life paying rich tributes to the heroic sons who embraced martyrdom while encircling Rangpur Cantonment on this day.

Additional Divisional Commissioner Md. Abu Jafar, Additional Commissioner of Rangpur Metropolitan Police Saifuzzaman Faruki and Deputy Commissioner (DC) Dr Chitralekha Nazneen with high officials first placed wreaths there paying rich tributes to the martyrs of the Nisbetganj massacre.

Central leader of Awami League and former lawmaker Advocate Hosne Ara Lutfa Dalia, Joint Conveners of district Awami League Professor Mazed Ali Babul and Advocate Anwarul Islam, Convener of city Awami league Dr. Delwar Hossain and its Joint Convener Md. Abul Kashem, General Secretary of District Mohila Awami League Advocate Zakia Sultana Chaity, former President of District Chatra league Mehedi Hasan Rony, among others, placed wreaths there.

The March 28 Cantonment Attack Smriti Sangrakhshan Parishad, Muktijoddha Sangsad Santan Command, Bir Muktijoddha Tayebur Rahman High School, Jamison Nesa High School and Nisbetganj Government Primary School also placed wreaths there.

Special munajats were also offered seeking divine blessings for the departed souls of the martyred Bangalees who embraced martyrdom on March 28, 1971.

On the occasion, the speakers said thousands of Bangalees irrespective of their caste, creed and religion laid down their lives while surrounding Rangpur Cantonment with lethal and indigenous sharp weapons like spears, arrows and bows in a bid to capture the cantonment on that day.

Abul Kashem said the supreme sacrifice of some 600 heroic sons set up a sparkling instance of Bangalee heroism and sparked the War of Liberation, inspiring the Bangalees with heroism to liberate the country.

Mehedi Hasan Rony said independence-seeker Bangalee Muslims, Hindus and Buddhists, Oraon, Santal and other ethnic communities equipped with indigenous weapons attempted to capture the cantonment on that day in 1971.

"Message of the dazzling Bangalee heroism spread rapidly to the whole northern region, igniting a fire in the mind of every Bangalee and inspiring political leaders in organizing the War of Liberation to attain ultimate independence," he added.

The speakers called for informing the new generations about the unique heroism and supreme sacrifice of the brave Bangalees while encircling Rangpur Cantonment to bring them up in the spirit of the War of Liberation with patriotism.