Decorative sewing artisans busy ahead of Eid-ul-Fitr in Rangpur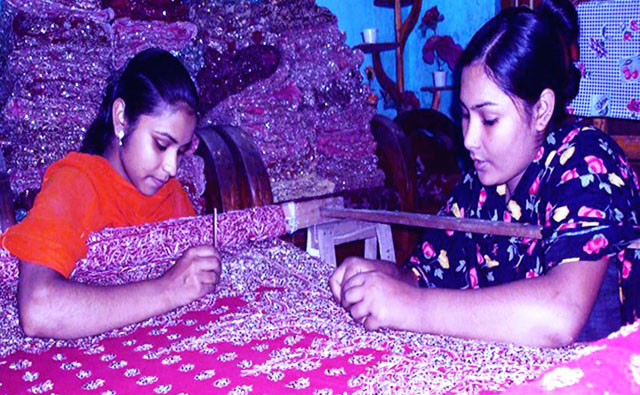 RANGPUR, March 28, 2023 (BSS) - With their handiwork in high demand in markets, female artisans of Rangpur division are very busy in decorative stitching of dresses to add extra elegance ahead of the Eid-ul-Fitr festival.

Officials of Bangladesh Small and Cottage Industries Corporation (BSCIC) said around 45,000 women are now busy in ornamental needlework at homes or local enterprises in the division to earn much better before the festival of Eid-ul-Fitr festivity.

"The artisans are busy in embroidering, spangling and ornamental stitching on saree, three pieces and other clothes now," said Acting Deputy General Manager of BSCIC, Rangpur Md. Shamim Hossain.

During the current global crises caused by the Russia-Ukraine War, hundreds of female artisans are earning well through ornamental stitching on female clothes to lead a normal life and bring self-reliance, putting huge positive impacts on the economy.

The BSCIC, Department of Youth Development (DYD), Bangladesh Rural Development Board, Department of Women Affairs (DWA), Department of Social Services, other departments and NGOs are assisting to expand the sector jointly with local traders and entrepreneurs.

Deputy Director of the DYD, Rangpur Md. Abdul Faruk said some 1,500 women are earning well after getting training on embroidery with DYD assistance to lead a better life with their family members contributing to keep the rural economy moving onwards.

"We provided necessary training to these unemployed female youths, divorcees and distressed women on sewing and embroidery and disbursed easy-term loans and inputs in recent years to make them self-reliant," Faruk said.

He said the home-based or enterprise-based embroidery or ornamental stitching works have got a shape of growing cottage industry creating huge jobs for unemployed female youths to cut poverty and change rural economy.

Similarly, about 3,500 unemployed women in Rangpur division are engaged in ornamental sewing after receiving training and assistance from RDRS Bangladesh over the years to become self-reliant.

These craftswomen remain very busy to earn more before the Eid-ul-Fitr festivity as demand for their products increases by many times in fashion markets of the capital city and other cities and towns across the country.

Deputy Director of the DWA, Rangpur Kawser Perveen said many unemployed female youths are earning well after getting training on sewing and embroidering and assistance from the DWA in recent years in the district.

Talking to BSS, female entrepreneur Sanjida Lopa said she has set up 'Taimur Boutique' where 12 female youths are working as expert artisans at Dhap Lalkuthi area in Rangpur city and many of them earning up to Taka 12,000 every month per head.

"Presently, we are facing huge pressure to supply previously ordered woks on embroidering, spangling and ornamental stitching on saree, three pieces and other female clothes before the Eid-ul-Fitr festivity as in the previous years," Lopa said.

Craftswomen Mohua Begum, Joytsna Khatun, Nahar Banu and Mustari of Badarganj upazila in Rangpur said they achieved self-reliance through ornamental needle works like many other unemployed women of the village.

Successful craftswomen Shabana Begum and Saleha Khatun of Syedpur upazila in Nilphamari said they generally earn Taka 12,000 monthly and up to Taka 18,000 through embroidery works before the Eid-ul-Fitr festivity.

Owner of private sector enterprise 'Nari Ponno' Farida Pervin at Ulipur upazila in Kurigram said ornamental stitching on female clothes has brought self-reliance to some 500 female youths of her area.

"The craftswomen generally earn Taka 10,000 to 16,000 per month depending on their expertise and quality of decorative works on saree, three pieces and other female clothes with spangling, ornamental stitching and embroidery," Farida added.