Independence and National Day celebrated in Rangpur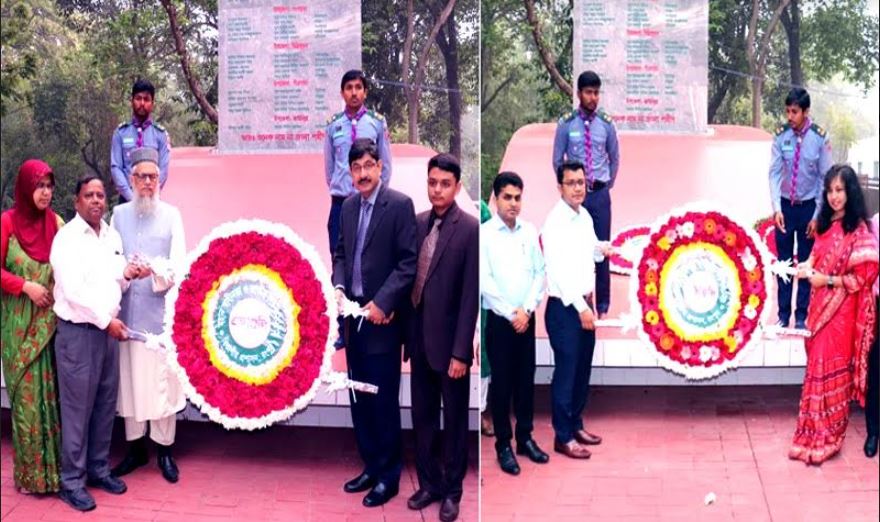 RANGPUR, March 26, 2023 (BSS) - The Independence and National Day-2023 was
celebrated here today with colorful programs turning Rangpur into a city of
festivity, cheerfulness and jubilation.

Hundreds of joyous people participated in the celebrations with a fresh
pledge to realise the dream of Father of the Nation Bangabandhu Sheikh
Mujibur Rahman by building a smart Bangladesh by 2041 as envisioned by his
able daughter Prime Minister Sheikh Hasina.

The district administration, Rangpur City Corporation (RpCC), Awami League
and its associate bodies, educational institutions, sociocultural and
professional organisations took colorful programs to celebrate the auspicious
national occasion.

The celebrations began with heralding 31-gun salutes at 'Swadhinota
Smritistambha Arjan' in Modern Mour area of the city at zero hours.

With the sunrise, the national flag was hoisted atop all government, semi-
government, private and public buildings, educational institutions and other
establishments.

Floral wreaths were placed at 'Swadhinota Smritistambha Arjan', Bangabandhu's
mural and 'Shaheed Muktijoddha Smritistambha' paying rich tribute to the
martyred best sons and daughters of the soil.

Divisional Commissioner Md. Sabirul Islam, Mayor of Rangpur Md. Mostafizar
Rahman Mostafa, Deputy Inspector General (DIG) for Rangpur Range Police Mohd
Abdul Alim Mahmud, Rangpur Metropolitan Police (RpMP) Commissioner Nure Alam
Mina, Deputy Commissioner Dr. Chitralekha Nazneen, Superintendent of Police
(SP) Md. Ferdous Ali Chowdhury, District Council Chairman heroic freedom
fighter Mosaddek Hossain Bablu first placed wreaths at these places.

Later, Convener of district Awami League Chhayadat Hossain Bakul with its
Joint Conveners Advocate Md. Anwarul Islam and Professor Mazed Ali Babul,
Convener of city Awami League Dr. Md. Dewar Hossain and Joint Convener Md.
Abdul Kashem, senior leaders of Awami League and its associate bodies placed
wreaths.

Leaders of other political parties, heroic freedom fighters, heads of
government departments and educational institutions, business bodies, civil
society members, professionals and commoners placed wreaths at these places.

The Divisional Commissioner with high officials hoisted the national flag
amid rendering of the National Anthem at Sheikh Russel Stadium, Rangpur.

He saluted the march-past of police, Ansar and VDP, BNCC, fire service and
civil defence personnel, jail guards, scouts, girls in scouts, students and
children and witnessed colorful displays there.

The programmes also included drawing competitions for children on the War of
Liberation, charity football matches, different sports competitions,
screening of films on the War of Liberation at cinema halls without tickets
and cultural functions.

The main streets and roadside islands were decorated with the national flag,
posters and miniatures and the government, semi-government and private
buildings were illuminated in the city.

Heroic freedom fighters, family members and relatives of martyred freedom
fighters were accorded receptions at the District Shilpakala Academy
auditorium.

Special prayers and munajats were offered at mosques, temples, pagodas,
churches and other places of worship seeking eternal peace for departed souls
of martyred freedom fighters and continuous peace, progress and development
of the nation.

Improved diets were served to the inmates of all hospitals, jails, Shishu
Paribars, rehabilitation centers of street children, welfare centers for
disabled people, vagabond centers and child day care centers.

The district administration arranged the main discussion followed by prize
distribution at the District Shilpokola Academy auditorium.

The Divisional Commissioner addressed the discussion and distributed prizes
as the chief guest with the Deputy Commissioner in the chair.

The DIG, RpMP Commissioner, SP, heroic freedom fighters, senior leaders of
the district and city units of Awami League and civil society members spoke.

The district and city units of Awami League and its associate bodies,
different political parties and organisations and educational institutions
celebrated the day.