Independence Day celebrated in C'nawabganj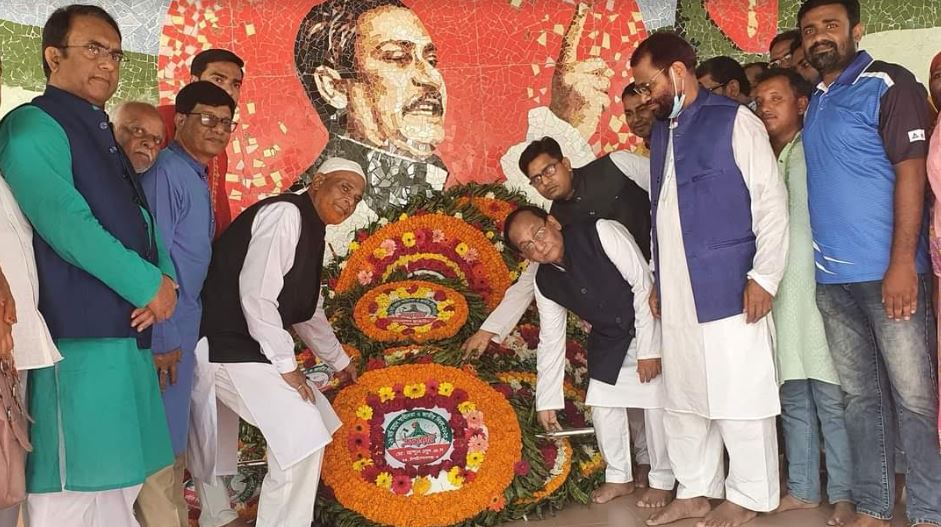 CHAPAINAWABGANJ, March 26, 2023 (BSS)- The Independence and National Day-2023
was celebrated here today in a befitting manner.
The day's programmes began with heralding 31-gun salute at the
Chapainawabganj Stadium at dawn.
The national flag was hoisted at all government, semi-government, autonomous,
non-government offices, educational institutions and other buildings.
Chapainawabganj district administration, different government and non-
government offices and organisations, Awami League and its front
organisations, Bangabandhu Parishad and educational institutions offered
wreaths of flowers at the monument of the martyred freedom fighters in front
of the Deputy Commissioner's office and at the mural of the Father of the
Nation Bangabandhu Sheikh Mujibur Rahman at Bangabandhu Square in the town.
A programme of hoisting of the national flag, students gathering and a grand
march past participated by Bangladesh Police, Ansar, VDP, BNCC, Fire Service
and Civil Defence, Chapainawabganj Jail was held at Dr. AAM Mesbahul Hoque
(Bachchu Daktar) Stadium at 8am.
Deputy Commissioner of Chapainawabganj AKM Galiv Khan and Superintendent of
Police AHM Abdur Rokib took the salute in the march past.
Later, the participants in the march past displayed their events.
Chapainawabganj district administration arranged a discussion meeting, prize
distribution and cultural function at Bangabandhu Mancha on the DC office
premises at 2 pm with DC AKM Galiv Khan in the chair.
Lawmaker of Chapainawabganj Sadar constituency Md. Abdul Wadud attended the
discussion as the chief guest while Lawmaker of women reserved seat Ferdousi
Islam Jesi, Superintendent of Police, Chapainawabganj AHM Abdur Rokib,
Chairman of Chapainawabganj Zila Parishad valiant freedom fighter Md. Ruhul
Amin, Deputy Director (LG) Debendranath Orao, Chief Executive Officer of
Chapainawabganj Zilla Parishad Md. Afaj Uddin, Civil Surgeon Dr. SM Mahmudur
Rashid, Principal of Nawabganj Government College D. Shankar Kumar Kundu and
valiant freedom fighter Advocate Md. Abdus Samad were present as special
guests.
The day's other programmes included reception to the families of martyred
freedom fighters, wounded freedom fighters and the other freedom fighters and
Iftar party at the Zila Shilpakala Academy.
Besides, the educational institutions arranged discussion meetings and doa
mahfil to mark the day.