Independence Day celebrated in Khulna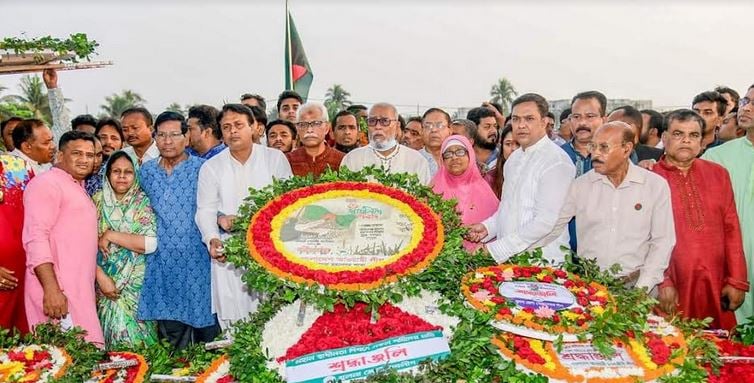 KHULNA, March 26, 2023 (BSS) - Different organisations, including Khulna
District Administration, here today celebrated the 53rd Independence and
National Day pledging to establish a non-communal prosperous and developed
Bangladesh with the spirit of Liberation War.
Khulna District administration took elaborate programmes marking the day.
The Independence Day has begun with heralding of a 31-gun salute at dawn on
the Khulna Metropolitan Police Line premises.
Marking the day, National flags were hoisted atop all public and private
buildings at dawn and floral wreaths were placed by the people of all walks
of life at the Gallyamary Martyrdom Memorial here.
Khulna City and District Muktijoddha (Freedom Fighters) Command Council,
State Minister for Labour and Employment Begum Monnujan Sufian, Khulna City
Corporation Mayor (KCC) Talukder Abdul Khaleque, Khulna Divisional
Commissioner, Khulna Police Commissioner, Khulna Range DIG of Police, Khulna
District Administration, Zila Parishad, City and district units of Awami
League, educational institutions and socio-cultural organisations placed
wreaths at the memorial at dawn.
Khulna Divisional Commissioner Zillur Rahman Chowdhury hoisted national flag
at Khulna district stadium. A colourful parade was held by the different
government organisations including Freedom Fighters, Police, Anser, VDP,
BNCC, Fire Service and Civil Defense, Bangladesh Scout, Rover Scout and Girls
Guide.
Later, children gathering, prize distribution and cultural function were held
on the occasion.
Different educational institutions including Khulna University (KU), Khulna
University and Engineering Technology (KUET) organised various programmes
marking the Independence Day.
Liberation War based documentaries and movies were screened at different
cinema halls and open places while rare photography and books based on
Liberation War were exhibited at Umesh Chandra Public Library.
Special prayers were offered at mosques, temples, churches and other
religious institutions seeking divine blessings for peace and progress of the
country.
Improved diet has been served at all hospitals, orphanage centers and jail to
mark the day.
Marking the day, a discussion meeting on life sketch of Bangabandhu and
reception programme for Freedom Fighters and members of Shaheed Families
during the Liberation War was held at the Shilpakala Academy.
State-run Khulna Betar broadcasted special programmes while the
localnewspapers brought out special supplements on the occasion.
Khulna Divisional Information Office screened a documentary film show on the
life of Bangabandhu and the Liberation War at city's Shaheed Hadis Park and
city's important places. Divisional Museum and Genocide Museum were open for
all from dawn to dusk today.
A naval ship was open for all until evening at BIWTA Rocket Ghat at the bank
of the river Bhairab.
Meanwhile, Khulna City and District Awami League organised different
programmes marking the Independence Day. The programmes include hoisting of
national flag atop of party office, placed wreath at the Gallyamari monument,
discussion meeting and doa mahfil at the party office.
City Awami League President Talukder Abdul Khaleque presided over the
discussion while State Minister for Labour and Emploment Begum Monnujan
Sufian addressed it as the chief guest.
Besides, District unit Awami League also organised a discussion meeting with
its President Sheikh Harun-ur-Rashid in the chair.