'Operation Searchlight is a precedent of terrible genocide'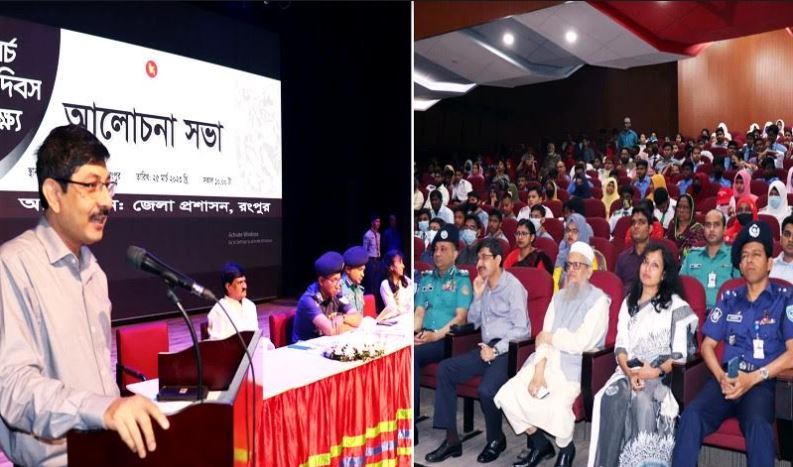 RANGPUR, March 25, 2023 (BSS) – In the code name of 'Operation Searchlight', the Pakistan occupation army carried out a massive massacre to wipe out the Bengali nation at the midnight of March 25, 1971 setting up a precedent of terrible genocide.

On that black night, armed with modern weapons, the barbaric Pakistani occupation forces went down in an armed campaign and massacred the unarmed, innocent and sleeping common Bengalees in cold blood as per an earlier plan.

No country in the world has such a terrible example of massacre. Global recognition of the hellish genocide as the International Genocide has become the need of the hour of the humanity.

The observation came today at a discussion in observance of the Genocide Day-2023 followed by staging drama arranged at District Shilpokola Academy auditorium in the city.

The district administration, Awami League and its associate bodies, Ghatok Dalal Nirmul Committee (GDNC), Sector Commanders' Forum (SCF) and many other organisations observed the day through daylong programs.

The programs included memorial discussions with participation of heroic freedom fighters and noted personalities at educational institutions, discussion, staging dramas, candle-lit and a one-minute symbolic black-out program.

The Divisional Information Office screened rare photographs and documentary films on the horrific genocide.

Different cultural organisations staged dramas and arranged cultural programs on the genocide committed by the Pakistani occupation army and War of Liberation.

Special munajats and prayers were offered at mosques, temples, pagodas and churches and other places of worship seeking divine blessings and eternal peace for departed souls of the martyred Bangalees on March 25, 1971.

Deputy Commissioner Dr. Chitralekha Nazneen presided over the main discussion organised by the district administration marking the day.

Divisional Commissioner Md. Sabirul Islam addressed the discussion as the chief guest.

Rangpur Metropolitan Police Commissioner Nure Alam Mina, Additional Deputy Inspector General for Rangpur Range Police AFM Anjuman Kalam, Superintendent of Police Md. Ferdous Ali Chowdhury, District Awami League Joint Conveners Professor Mazed Ali Babul and Advocate Anwarul Islam spoke as special guests.

The speakers discussed the history of long struggles for freedom of the Bengali nation and brutality of the Pakistani regime and their invading forces.

The chief guest urged everyone to inspire the next generation with patriotism in the spirit of Language Movement and Great War of Liberation to realise the dream of Father of the Nation Bangabandhu Sheikh Mujibur Rahman through building a smart Bangladesh as envisioned by Prime Minister Sheikh Hasina.
At the end of the discussion, poems and rhymes were recited by school students.

In the evening, government officials, leaders of sociocultural and professional organisations participated in the candle-lit program at the Central Shaheed Minar premises in the city.