Ctg people demand recognition of March 25 as Int'l Genocide Day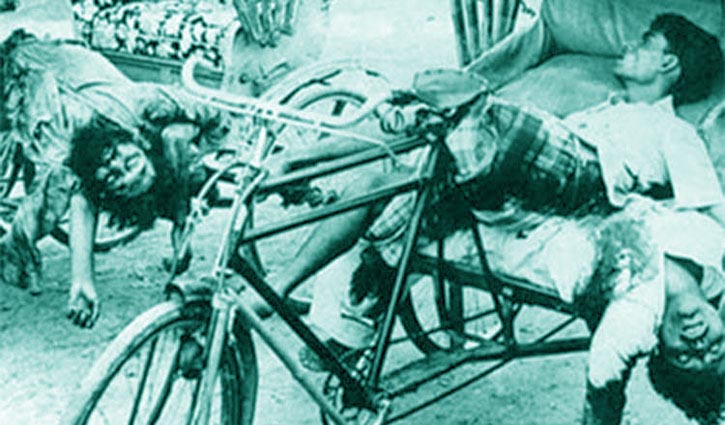 CHATTOGRAM, March 25, 2023 (BSS) -Marking the atrocities and massacres committed by the Pakistani occupation forces on the innocent people on the Black Night of March 25 in 1971, people of Chattogram observed the Genocide Day today.

Chattogram district administration chalked out elaborate programmes,
including placing of wreaths at Shaheed Minar and discussion meeting at
Shilphakala Academy to mark the day.
Chattogram Shishu Academy and District Shilpakala Academy organized various competitions of essay and painting, patriotic song and recitation on genocide and the great Liberation War followed by cultural functions.
Deputy Commissioner Abul Bashar Mohammad Fakuruzzaman chaired the discussion meeting held at Shilphokala Academy this morning.
Speakers at different discussions called for the recognition of the March 25 as the 'International Genocide Day' to uphold honour and dignity of the humanity.
They stressed the need for creating consensus among the people at home and abroad to earn international recognition of the Genocide Day being observed today in the country.
Like the Liberation War, the incident of genocide is marked permanently in the history of Bangladesh and the young generation needs to work for a due recognition of the day, they added.

Besides, different educational institutions, political parties and socio-cultural organisations also observed the day through day-long programmes including through placing wreaths at its Shaheed Minar paying rich tribute to the martyrs.

Earlier, the deputy commissioner placed wreath on the martyred tombstone located in Pahartali area in the city around 10 am.
City Mayor Rezaul Karim Chowdhury paid homage to the heroic martyrs in the Pahartali tombstone located in Pahartali On the occasion of the 25th March, at 11 am today.
The city Mayor also offeed prayers, placing floral wreaths at mass graves, and holding discussions after that. Bangladesh Awami League and its front organisations, Bangladesh Muktijoddha Sangshad, district and upazila unit commands, Sector Commanders Forum, Chattogram Press Club, Chattogram University (CU), Chattogram University of Science and Technology (CUET), Chattogram Veterinary and Animal Sciences University, East Delta University and different educational institutes including Chattogram college also observed the day through different programmes.
Chattogram district administration also held a meeting on the importance and significance of the day at Zila Shilpakala Academy.
The speakers in their speeches said Pakistani occupational forces swooped on unarmed and sleeping Bangalees on the night of March 25 and they along with their local collaborators including Rajakar, Al Badr and Al Shams carried out atrocities that continued for night month at a stretch.
Besides different social cultural organizations here demanded to global recognition of the March 25 as the 'International Genocide Day' of the genocide carried out by the Pakistani occupation forces, to uphold honour and dignity of the humanity.
A large number of people including district level officials, NGO activists, political leaders, cultural personality, teachers, students and journalists attended the programmes.