Genocide Day observed in Khulna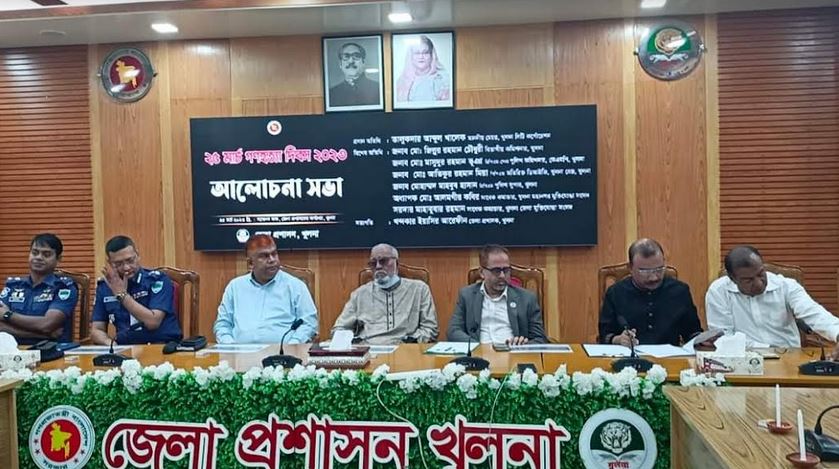 KHULNA, March 25, 2023 (BSS) - The Genocide Day was observed today in Khulna as elsewhere in the country commemorating the brutal attacks carried out by Pakistani occupation forces on the unarmed Bengalis on the black night of March 25 in 1971.
The District Administration and other socio-cultural organizations including Khulna city and district unit Awami League (AL) chalked out elaborate programmes to observe the day.
Khulna district administration organized a discussion meeting at the auditorium of the Khulna deputy commissioner's office with Khulna DC Khondokar Yasir Arefin in the chair.
Mayor of Khulna City Corporation (KCC) Talukder Abdul Khaleque, addressed the discussion as chief guest while Khulna Divisional Commissioner Md Zillur Rahman Chowdhury, Khulna Metropolitan Police Commissioner Md Masudur Rahman Bhuiyan, Additional DIG of Khulna Range Police Md Atiqur Rahman Mia, Superintendent of Police Md Mahbub Hasan, ex-Commander of City Unit Muktijoddha Command Council Professor Md Alamgir Kabir, and ex-Commander of District Unit Muktijoddha Command Council Md Mahbubur Rahman, addressed, as special guests.
The speakers said the genocide carried out by Pakistani occupational forces on March 25 is a black chapter in the history of the Bangalee nation.
"Pakistani occupied forces and their local collaborators swooped on Bangalees and started killing, oppression, gang-raping, fired and looted valuables during nine-month long genocide that began on the black night on March 25 in 1971," they said.
Marking the day, the Department of Divisional Information Office will screen a film on Genocide and Liberation War in the city's Shaheed Hadis Park.
The city and district units of AL also organized a rally in the party office with city unit AL President Talukder Abdul Khaleque in the chair.