Rajshahi City people to get another four-lane road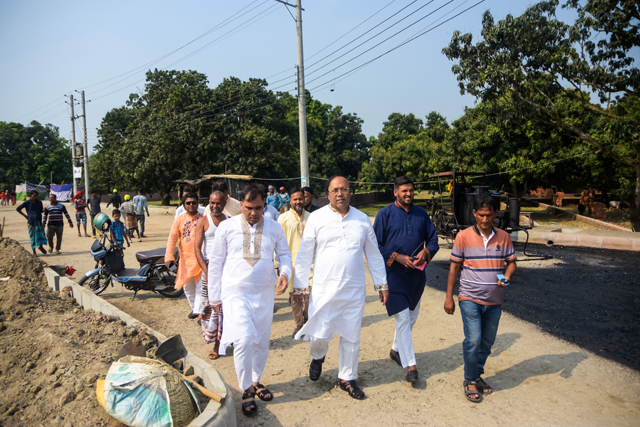 RAJSHAHI, March 25, 2023 (BSS) - In addition to many others, Rajshahi city dwellers are going to get another four-lane road as Rajshahi City Corporation (RCC) has taken an initiative to convert the double-lane road into a four-lane one.

The RCC has been turning the Kasiadanga crossing to Kathalbaria crossing road to a four-lane one wide along with a road-divider and another lane for non-mechanized vehicles.

RCC Mayor AHM Khairuzzaman Liton accompanied by others concerned inspected the ongoing expanded works on Friday afternoon saying the road will be a modern one.

Liton said, the road will be constructed as part of RCC's Taka 2,993-crore project titled 'Integrated Urban Infrastructure Development in Rajshahi City'.

The city corporation has also been elevating the Bilsimla Railway crossing to the City Hat street road to four-lane aimed at making the movement of both vehicles and people quick and smooth.

It has been turning the road to 80-feet wide along with a four-foot-wide road divider with an outlay of around Taka 44.92 crore.

On both sides of the 3.532-kilometer road, a 44-feet road, 12-feet wide drain and footpath and 20-feet road for the slow-moving vehicles are also being constructed.
The city corporation has also been elevating another dilapidated road to a smart street aimed at meeting the existing demand of the city dwellers besides making the metropolis free from traffic congestion.

The 4.17-kilometer road from Naodapara bus terminal to Bhadra Railway crossing is being elevated as part of implementation of the Taka 2,993-crore project titled 'Integrated Urban Infrastructure Development in Rajshahi City'.
Mayor Liton said the potential road is being elevated to four-lane from double lane with additional two other lanes for slow-moving vehicles, road divider and drain and footpaths on both sides at a cost of around Taka 69.78 crore.

In addition to the elevation works the north-south connecting road will be beautified and greened through transplanting decorative trees and plants.

As a whole, the road will bring an epoch-making change to people residing adjacent to the road in terms of uplifting their socio-economic situation.
Under the mega project, the RCC is going to construct five more flyovers as soon as possible for the overall development of the metropolis by freeing it from traffic congestion.

The flyovers will be constructed on Haragram Natunpara Railway Crossing, Rajshahi Court Station Railway Crossing, Bilsimla Railway Crossing, Shaheed AHM Kamaruzzaman Railway Crossing, Bhadra Railway Crossing and Mohanpur Railway Crossing.

Earlier, the city corporation has constructed a 202.5-meter flyover along with a 120-meter ramp at Budhpara Railway crossing with an estimated cost of Taka 29.28 crore for the first time in Rajshahi city.

Liton said the Rajshahi city will get a new look upon the successful implementation of the mega project.