Media role vital to build "Smart Bangladesh" through resisting rumours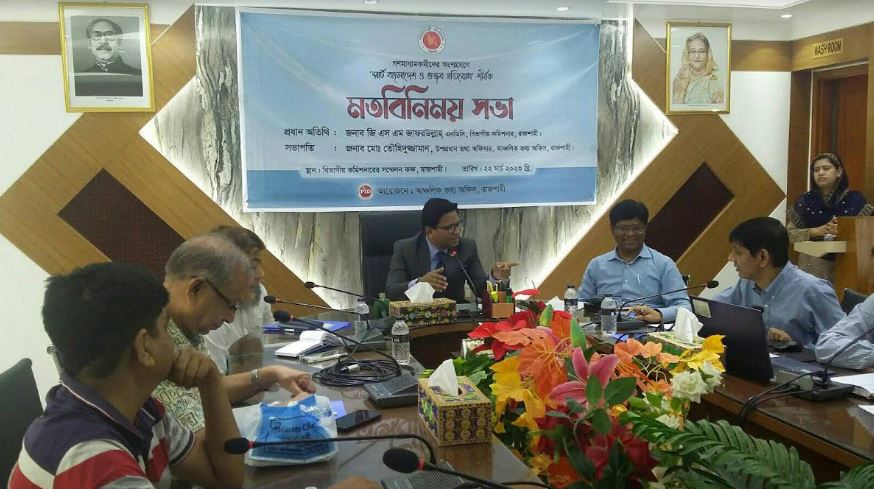 RAJSHAHI, March 22, 2023 (BSS)- Proactive role of the mass-media, both print
and electronic, can be the best way of building smart Bangladesh through
preventing all sorts of rumours.
Mass-media should play its due role towards resisting the rumours as there is
no way but to combat it to build smart Bangladesh to take the country to a
new height.
Administrative officials and media personalities made the observation while
addressing a view-sharing meeting styled "Smart Bangladesh and Prevention of
Rumours" here today.
The Regional office of the Press Information Department (PID) organised the
meeting at the office conference hall of the Divisional Commissioner largely
attended by journalists working in print and electronic media.
Commissioner of Rajshahi division GSM Jafarullah addressed the meeting as
chief guest with Deputy Principal Information Officer (DPIO) Muhammad
Touhiduzzaman in the chair.
Additional Commissioners Imtiaz Hossain, ANM Moinul Islam and Dr Moksed Ali,
Director of Local Government Enamul Haque, Editor of Daily Sonar Desh Akbarul
Hassan Millat and President of Rajshahi Press Club Saidur Rahman also spoke.
Commissioner Jafarullah said the conspirator circles are continuously
spreading rumours which are detrimental to the country's non-stop development
and urged the media workers to depict the real scenario of the development
against the rumours.
He said there is no chance of food shortage as there are sufficient amounts
of food grains in warehouses in the country and time has come to bring those
who are spreading rumours on different issues under disciplinary action.
Divisional Commissioner Jafarullah said the present government under the
prudent and farsighted leadership of Prime Minister Sheikh Hasina has been
working relentlessly to build the country as smart, prosperous and happy one
by 2041.
All quarters should supplement the government endeavors through discharging
duties with utmost sincerity, honesty and patriotic zeal.
DPIO Touhiduzzaman portrayed the multifarious achievements and progress in
different fields, including ICT, automation, digitization, attained during
the last 14-year period of the government.