Children need legitimate support for rights protection: Speakers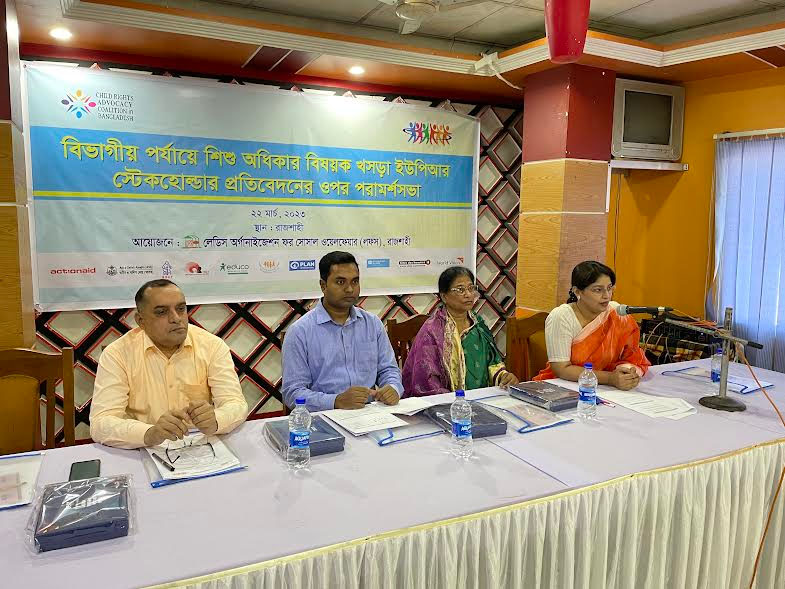 RAJSHAHI, March 22, 2023 (BSS) - Protecting children from all sorts of violation, repression, deprivation and early marriage can be the crucial means of building a healthy and knowledgeable nation for the future.

Children particularly coming from the disadvantaged and underprivileged families must be protected from all sorts of labour, violence, repression and oppression so that they can get scopes of grooming themselves properly.
Experts and development activists came up with the observation while addressing a divisional consultation titled "Child Rights Protection: Drafts of Universal Periodic Review" at SK Food world in the city today.
Lady's Organization for Social Welfare (LOFS), a member of Bangladesh Shishu Adhikar Forum (BSAF), organized the consultation discussing and devising ways and means on how to protect child rights collectively.
Deputy Inspector General of the Department of Inspection for Factories and Establishments (DIFE) Ariful Islam addressed the meeting as chief guest, while LOFS Executive Director Shahnaz Parveen Luckey was in the chair.
Chief Community Development Officer of Rajshahi City Corporation Azizur Rahman, District Children Affairs Officer Monzur Quader and LOFS Programme Officer Mehedi Hassan also spoke.
Safiya Sami, Coordinator of BSAF, gave an illustration on the issue of the present situation of children during her keynote presentation.
Ariful Islam said the present government of Prime Minister Sheikh Hasina is very much positive towards protecting the child rights and urged the field level government and non-government organizations concerned to supplement the government endeavor.
He termed the children learning as the foundation of all higher education and said their teaching and learning process must be effective and kids- friendly.
Physical and mental development of children could be possible when they will be protected from violence and deprivation from their early childhood, he added.

The practice of child marriage is very damaging, especially for girls. It seems that girls are treated as a burden to society, mostly in rural areas.
Terming child marriage as gross violation of human rights, Shahnaz Parveen Luckey said children are being married off, despite multifarious interventions by the government and non-government organisations concerned.
It is vital to increase awareness regarding the negative impacts of early marriage with the help of the mass media and community.