Meeting held to keep essentials' price stable during Ramadan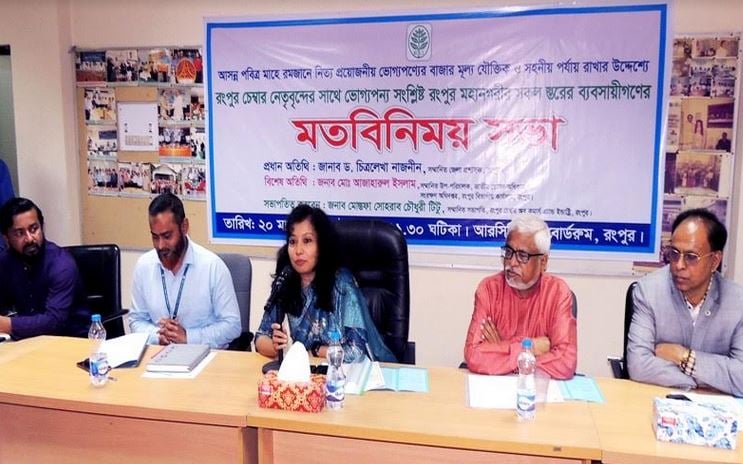 RANGPUR, March 20, 2023 (BSS) - A view-exchange meeting was held at the
Rangpur Chamber of Commerce and Industry (RCCI) board room here today to keep
prices of essential commodities stable during the holy month of Ramadan.

Leaders of the RCCI and different trade bodies and common traders of the city
attended the meeting and exchanged views on the issue with the Deputy
Commissioner of Rangpur.

Deputy Commissioner Dr. Chitralekha Nazneen attended the meeting as the chief
guest with RCCI President Mostafa Sohrab Chowdhury Titu in the chair.

Rangpur Divisional Deputy Director of the Department of National Consumer
Rights Protection Md. Azharul Islam attended the event as a special guest.

Director of RCCI Md. Akbar Ali, edible oil trader Md. Azizul Islam Mukul,
pulses trader Alhaj Sadek Hossain Munna, General Secretary of District Ata
Mill Owners' Association and sugar trader Alhaj Moin Uddin, prominent
businessmen Md. Mostafizar Rahman, Gobind Saha, RCCI Director Md Riaz Shahid
Sobhan, President of Rangpur City Meat Traders Association Md Abdul Quader,
Rangpur City Fruit Traders' Association General Secretary Mohd Mahbubar
Rahman (Shipon), among others, addressed.

The business community leaders and traders said there is no possibility of
increase in prices of daily necessities in Rangpur if the demand and supply
conditions remain favorable.

They called upon the local administration to stop needless harassment of
businessmen, take effective measures to alleviate traffic congestion, stop
the operation of unnecessary mobile courts, occupation of sidewalks and
emergence of seasonal traders.

They specially sought full cooperation of the Deputy Commissioner to remove
the obstacles and take necessary steps to reduce price variation in wholesale
and retail markets.

The RCCI President put emphasis on cooperation of the administration,
business community leaders and common traders to ensure smooth supply of
essential commodities in a hassle-free manner to local markets to keep the
prices stable.

Common consumers should not be worried as supply and stock situations of
essential commodities are quite adequate and satisfactory to contain prices
of those during the Ramadan, he said.

The chief guest sought cooperation of traders in maintaining sanctity of
Ramadan by supplying pure and hygienic food stuffs and conducting businesses
with normal profits keeping prices of essential commodities normal during the
holy month.