'If Bangabandhu's philosophy implemented, Bangladesh could surpass many countries'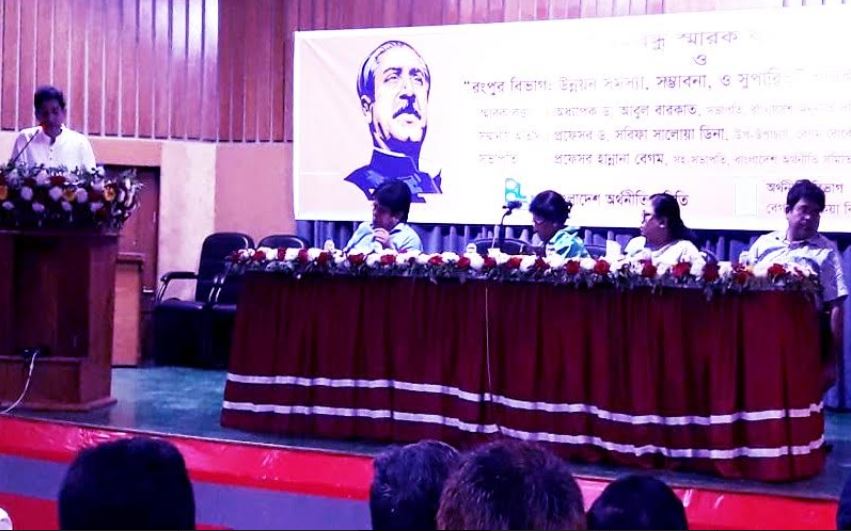 RANGPUR, March 18, 2023 (BSS) – Bangladesh Economic Association (BEA) President Dr. Abul Barkat has said Bangladesh would have surpassed many contemporary countries in terms of economic standards if Bangabandhu had lived and his philosophy had been implemented.
"Philosophy of Father of the Nation Bangabandhu Sheikh Mujibur Rahman is a combination of his vision, state thought, philosophy of life, social philosophy, political philosophy and economic development and progress," he said.

The noted economist said this while delivering the 'Bangabandhu Memorial Speech' titled 'Bangabandhu-Philosophy: Theory, Application and Prospects' held at Begum Rokeya auditorium of RDRS Bangladesh here today.

"If Bangabandhu's philosophy is implemented properly, there will be no discrimination in the society and the population will be transformed into manpower to ensure socio-economic development of all people," he added.

The BEA jointly with Begum Rokeya University, Rangpur (BRUR) organised the 'Bangabandhu Memorial Speech' and a seminar titled 'Rangpur Division: Development Problems, Potentials and Recommendations'.

Vice-president of BEA Professor Hanna Begum presided over the event.

Head of Department of Economics of Begum Rokeya University Professor Dr. Md. Morshed Hossain delivered a welcome speech narrating the goals and objectives of the events.

Pro Vice-chancellor of Begum Rokeya University Professor Dr. Sarifa Salowa Dina addressed the occasion as a guest of honor.

BEA General Secretary Professor Md. Aynul Islam took part as the main discussant while Dr. Abul Barakat delivered his expert opinions in the seminar.

Taking part in the open discussions, the speakers said development of Rangpur region requires adequate investment with a master plan as the region is still behind in development compared to other regions due to various reasons.

They said the development of Rangpur region requires investment in various fields including agriculture, trade, industrialization and special allocation in the annual budget.

Entrepreneurs should be given opportunities to encourage investment in the region to accelerate development and create jobs for the unemployed youths on the way to build a smart and developed Bangladesh by 2041 next.

They said the 'Special Economic Zone' projects announced by the government in Rangpur region should be implemented quickly and added that implementation of the much-talked Teesta Master Plan with a modern communication system is necessary.

Teachers and students of Begum Rokeya University and Hajee Mohammad Danesh Science & Technology University, academics, economists, sociocultural personalities of Rangpur region participated in the events.