Bangabandhu's birth anniersary celebrated in Rajshahi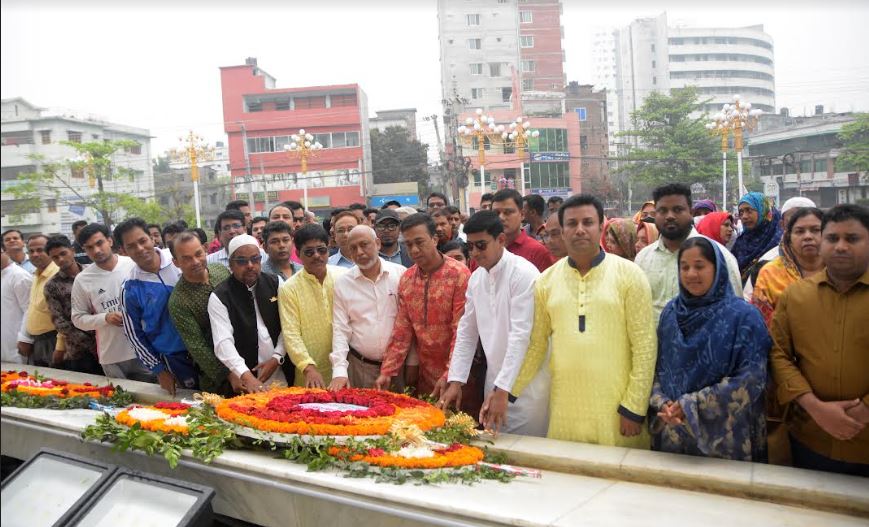 RAJSHAHI, March 17, 2023 (BSS) - The 103rd birth anniversary of Father of the Nation Bangabandhu Sheikh Mujibur Rahman and the National Children Day-2023 was celebrated here in a befitting manner today.

Rajshahi City Corporation (RCC), divisional and district administrations, police administration, corporate bodies, educational institutions, Awami League (AL), its associate organisations, Bangabandhu Shishu Kishor Mela, socio-cultural and children organisations celebrated the day through elaborate programmes.

The day's programmes began with hoisting of national flag atop all public and private buildings at dawn.

Other programmes include placing wreath at the portrait and mural of Bangabandhu, cutting birthday cake, screening of documentary films and illumination of important government, non-government and autonomous buildings and installations.

RCC authorities placed wreath at the mural of Bangabandhu at Bangabandhu Crossing paying rich tribute to him.

City and district units of Bangladesh Awami League placed wreaths at the portraits of Bangabandhu and four national leaders on the party office premises. Front ranking leaders of the units were present on the occasion.

Various government and non-government organisations, social and cultural bodies, valiant Freedom Fighters and politicians placed floral wreaths at the portrait of Bangabandhu on Shilpakala Academy premises.

Birthday cake-cutting function, discussion meeting, prize distribution and cultural programme were also held at Shilpakala Academy auditorium.

Divisional Commissioner GSM Zafarullah, Deputy Inspector General of Police Abdul Baten, Commissioner of Rajshahi Metropolitan Police Anisur Rahman, Deputy Commissioner Abdul Jalil and Superintendent of Police Masud Hossain, among other dignitaries, were present on the occasion.

Special prayers were offered seeking divine blessings for Bangabandhu, four national leaders and martyrs of the War of Liberation and peace and progress of the nation at mosques after Juma prayers, and in temples, pagodas, churches and other places of worship.

The District Information Office screened video footages and clippings on the life and works of Father of the Nation Bangabandhu Sheikh Mujibur Rahman at different road crossings in the city.

Improved diets were served to the inmates of all hospitals, upazila health complexes, jails, vagabond centers, shishu paribar and orphanages.

Various educational institutions including Rajshahi University, Rajshahi University of Engineering and Technology, Rajshahi Medical University, Rajshahi Medical College, Rajshahi Krisi Unnayan Bank, Bangladesh Silk Development Board and Rajshahi College also celebrated the birth centenary through separate programmes.