Integrated efforts indispensable to protect consumers' rights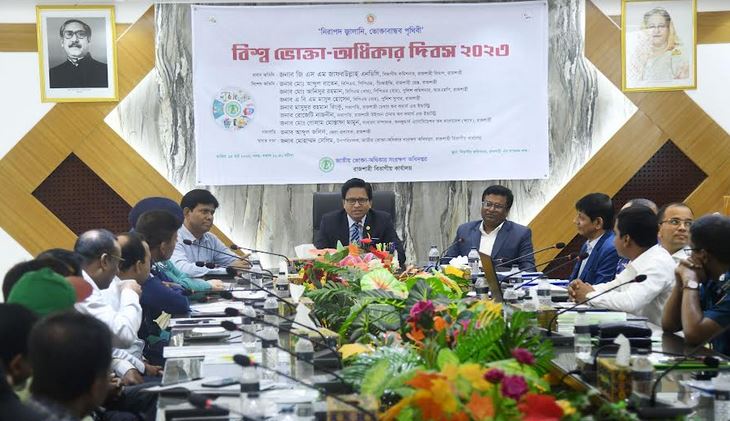 RAJSHAHI, March 15, 2023 (BSS) - Integrated efforts of all the government and non-government organizations concerned can be the crucial means of protecting consumers rights.
Simultaneously, enforcement of the Consumers Rights Protection Law has become an urgent need for ensuring safe food and protecting public health from various non-communicable diseases.

Many people are being infected by deadly diseases like cancer, liver cirrhosis, hepatitis and cardiac and kidney ailments through consumption of adulterated foods, so there is no way but to resist producing, possessing and selling contaminated foods.

The observation came at a discussion held at the conference hall of the Divisional Commissioner Office here today.

The District Administration and the Department of National Consumers Rights Protection (DNCRP) jointly organised the discussion in observance of the World Consumers Rights Protection Day-2023.
The theme of the day this year is "Empowering Consumers Through Clean Energy Transitions." All consumers must have the power and knowledge to protest against market abuses and social injustices that try to undermine those rights in any way.
Commissioner of Rajshahi Division GSM Zafarullah addressed the discussion as chief guest, while Additional Commissioner of Rajshahi Metropolitan Police Samsun Nahar and Additional Divisional Commissioner ANM Moinul Islam spoke as special guests with Deputy Commissioner Abdul Jalil in the chair.

Additional Deputy Inspector General of Police Saiful Islam, Additional Superintendent of Police Abu Saleh Ashraful Alam and President of Rajshahi Chamber of Commerce and Industries Masudur Rahman also spoke.

The discussants viewed that the issue of the consumers' rights is well accepted throughout the world and in the free market economy. So, awareness should be created among the businessmen and other concerns.

In the present context, ensuring reasonable prices of essential commodities and their supply to the buyer, protecting the interest of the e-commerce customer has emerged as a challenge that needs to be faced collectively.

The consumer should have the right to know about the quality of the commodities that they want to buy and they should also be able to buy them at reasonable prices.
Earlier, they opened the day by releasing balloons, banners and festoons in the sky.