GO-NGO efforts for mainstreaming disabled people stressed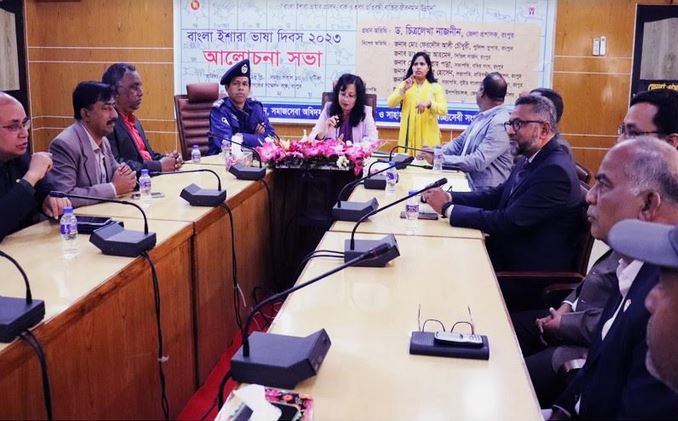 RANGPUR, Feb 7, 2023 (BSS) - Officials and leaders of different organisations at a discussion here today stressed on comprehensive GO-NGO efforts to ensure development of physically challenged people for their mainstreaming in the society.

The district administration, Department of Social Services (DSS), 'Rangpur Protibondhi Seba O Sahajjo Kendra' and volunteer organisations organised the event at the Deputy Commissioner's conference room in observance of the Bangla Sign Language Day-2023.

Elaborate programs including bringing out a colorful rally and discussion followed by distribution of warm clothes among physically challenged people were arranged marking observance of the day.

A number of physically challenged, hearing-impaired and intellectually disabled people, public representatives and civil society members participated in the rally.

Deputy Commissioner Dr. Chitralekha Nazneen addressed the discussion as the chief guest with Deputy Director of the DSS Md. Abdul Matin in the chair.

Superintendent of Police Md. Ferdous Ali Chowdhury, Additional Deputy Commissioner (Education and ICT) Md. Firujul Islam, President of Rangpur Protibondhi Foundation and heroic freedom fighter Akbor Hossain, President of SWID Bangladesh for Rangpur unit Susanto Bhowmick spoke as special guests.

Disability Affairs Officer at 'Rangpur Protibondhi Seba O Sahajjo Kendra' Taposh Kumar Barma discussed the massive programs being implemented by the government to ensure education, training, health services and extracurricular activities for physically challenged, disabled, deaf and dumb and vision impaired population.

Akbor Hossain stressed on mainstreaming and empowering the people with different types and extents of disabilities through comprehensive GO-NGO efforts to attain the sustainable development goals on time leaving no one behind.

The chief guest stressed on supporting the physically challenged people to turn them into human resources through ensuring education, training, development, employment, empowerment, constitutional rights, social security and dignity.