Govt gives utmost emphasis on women education: Liton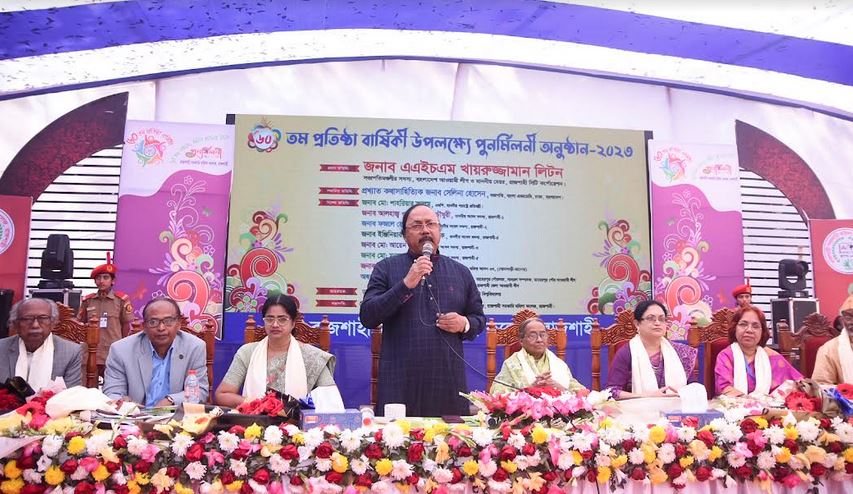 RAJSHAHI, Feb 4, 2023 (BSS) - Mayor of Rajshahi City Corporation AHM Khairuzzaman Liton said the present government has given utmost emphasis on women education for substantial and sustainable empowerment of the womenfolk.

"Education for women is very important for building an educated nation. So, the government has been working relentlessly to take the country's women education forward," he added.

Mayor Liton, who is also the Presidium Member of Bangladesh Awami League, came up with the observation while addressing the 60th founding anniversary and reunion ceremony of Rajshahi Government Women's College at its playground here today as chief guest.
He told the meeting that the country attained remarkable success in all development sectors under the leadership of Prime Minister Sheikh Hasina in the last 14 years.

He said sufficient allocation has been given for development of the education sector as there is no alternative to ensure qualitative education for taking the nation forward.
So, the government under the prudent and visionary leadership of Prime Minister Sheikh Hasina has attached top priority to the education sector.
Mayor Liton also said the girls' students will play a pivotal role in building Smart Bangladesh as digital Bangladesh has already been built and time has come to build Smart Bangladesh with the prudent and farsighted leadership of Prime Minister Sheikh Hasina.
President of Bangla Academy famous educationist Selina Hossain, who was the first batch student of the college, spoke on the occasion as guest of honour, with principal of the college Prof Jubaida Ayesha Siddiqua in the chair.
Former chairman of Rajshahi Education Board Prof Tanbirul Alam, former principal of Shahmukhdum Degree College Prof Tasiqul Islam and convener of the celebration committee Prof Zannatul Ferdous also spoke.
Colourful opening function, rally, reminiscence and cultural function were the salient features of the daylong celebration.