Holistic approach indispensable for human trafficking survivors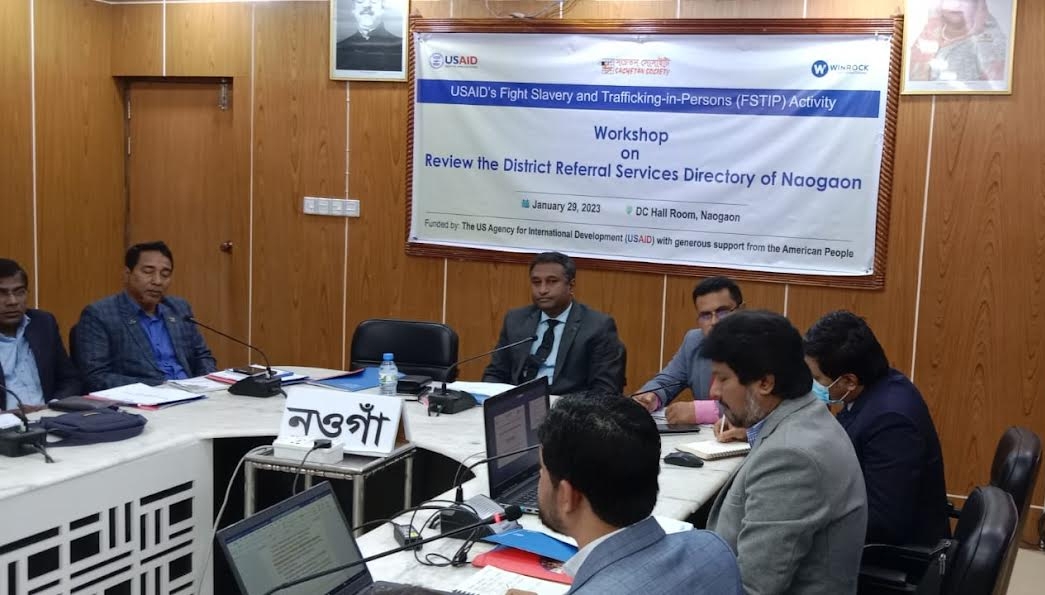 RAJSHAHI, Jan 30, 2023 (BSS)- Holistic approach coupled with close coordination between works of all government and non-government organisations concerned can be the crucial means of family and social integration of the trafficking survivors and victims.

Public and private organizations concerned should come forward and work together for the sake of lessening the plights, sufferings and vulnerabilities of the victims of human trafficking coupled with their proper rehabilitation.

Human trafficking victims are subjected to repression and oppression by their surrounding people. So there should be effective and time-befitting measures for ensuring their access to family and social integration.

Administrative officials and development activists unanimously made the observation while addressing a workshop titled "Review the District Referral Services Directory of Naogaon" on Sunday afternoon.

Sachetan Society organized the workshop at the conference hall of Deputy Commissioner (DC) of Naogaon to mark the launching of 'Directory of Survivors Service Providers: Naogaon district' in association with Bangladesh Fight Slavery and Trafficking-in-Persons Activity Project.

USAID and Winrock International jointly supported the project.
DC Khalid Mehedi Hassan addressed the workshop as the chief guest, while Additional DCs Zakir Hossain and Iqbal Hossain spoke as special guests disseminating their expertise on the issue.
District Livestock Officer Mohir Uddin, Deputy Director of Department of Social Services Nur Muhammad and NGO Leader Fazlul Haque Khan also spoke on the occasion.
Programme Manager of Sachetan Society Mahmud-Un-Nabi moderated the discussion.
DC Khalid Mehedi Hassan stressed the need for collective efforts of all government and non-government organizations concerned for proper rehabilitation of the human trafficking victims.

He said the present government under the dynamic and prudent leadership of Prime Minister Sheikh Hasina has been working relentlessly to free the nation from the curse of trafficking in persons and proper rehabilitation of the trafficked victims.

So, all the authorities' concerned and other stakeholders should come forward and work together to supplement the government endeavor.
Taking part in open discussions, the participants put forward a set of recommendations on how to make the service oriented activities appropriate to ease the sufferings of the victims.

They also advocated for formulating a time-befitting plan of action so that qualitative services are ensured through wide use of district directory.