Two get life-term jail in drug case in Meherpur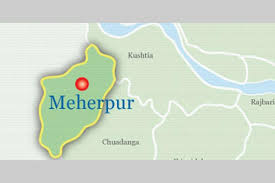 MEHERPUR, Jan 29, 2023 (BSS) - A court here today sentenced two persons to
life-term imprisonment in a drug trafficking case filed in 2018.
District and Session Judge Md Shahidullah handed down the verdict to Mamun
Mallik, hailed from Bamonpara in Sadar upazila and Rabiul Islam, an
inhabitant of Tengramari village.
The prosecution story, in brief, is that the convicts-- Mamun Mallik and
Rabiul Islam-- were arrested from Shahebpur Bazar in Mujibnagar upazila by
the Detective Branch (DB) of Police here on September 4 in 2018 while
conducting drive there.
The DB men also recovered 800 bottles of phensidyl from their possession and
filed a case with Meherpur Sadar Thana in this connection.
Later, police submitted charge-sheet against them.
Testifying witnesses and evidences the court found them guilty and handed
down the verdict.
Public Prosecutor Pallab Bhattacharya stood in favor of the government.