50 youths get life skill training in Rajshahi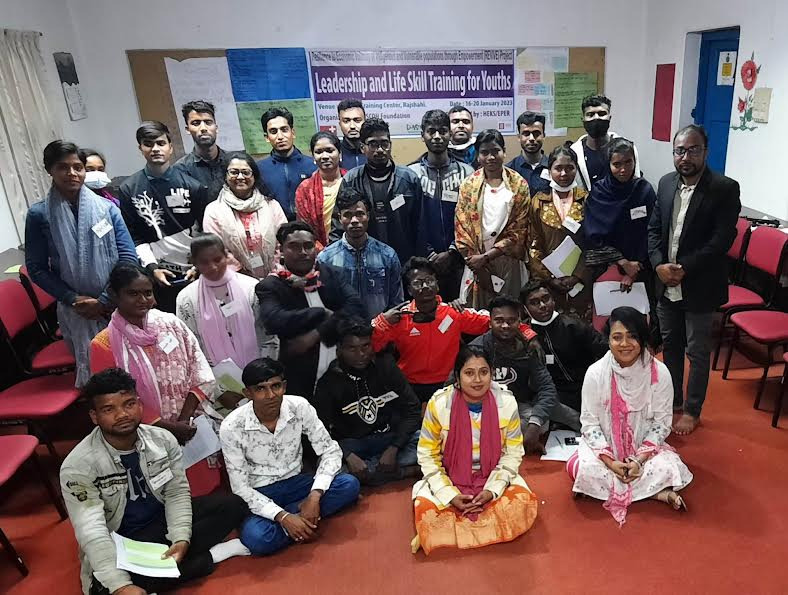 RAJSHAHI, Jan 27, 2023 (BSS)- A total of 50 youths, both male and female, were imparted life skill training aimed at making them competent for boosting cooperation and peaceful interaction between the adolescents and the youths, positive attitude to others, assertiveness and problem-solving.

They were given the leadership building training in two phases on behalf of the 'Resilience to Economic Volatility of Indigenous and Vulnerable Populations through Empowerment (REVIVE)' project in the city.

DASCOH Foundation hosted the five-day training at its conference hall supported by HEKS/EPER. The closing ceremony of the second phase of the five-day course was held on Thursday evening.

The REVIVE project is being implemented in Nachole and Gomostapur Upazilas under Chapaianwabganj and Manda, Niamatpur, Dhamoirhat and Mohadevpur upazilas under Naogaon districts for contributing to the holistic development of disadvantaged communities, including 80 percent ethnic minorities.

Ultimate goal of the two-year project is to contribute to the economic recovery and resilience of indigenous and other marginalized communities.

Country Director of HEKS/EPER Dora Chowdhury, Chief Executive Officer of DASCOH Foundation Akramul Huque, Program Manager Sibun Nesa Ruby, REVIVE Project Manager AFM Rukunul Islam and Project Manager Israt Jahan Biju conducted the training sessions as resource persons.

Akramul Huque told BSS that the participants coming from all the project-covering areas were given ideas on various issues related to attitude and behaviour in their student life as well as workplace, communication skills, problem-solving, delayed gratification, time management and teamwork intensively.

They were also given knowledge on how to enhance self-confidence and build self-esteem and a sense of belonging to empower and motivate youth or peer groups to positively explore life and make healthy choices.

Under the REVIVE project, the beneficiary households have been divided into 50 groups through social mapping, wellbeing ranking and prioritization for successful implementation of the project.

Each of the households was brought under cash incentives worth Taka 4,000. They were imparted training on various income-generating activities, including agriculture, vegetable farming, homestead gardening, fisheries, livestock, vermicompost and horticulture, based on their interest and choice.

Apart from this, the beneficiaries are being given post-training materials and logistic support so that they can engage themselves in the income-generating activities for improving their living and livelihood conditions after the best use of their knowledge acquired from the training.

Monika Mardi, a resident of Sonaichondi Mahali para in Nachole Upazila of Chapainawabgonj district, has become an income generator.

Among many other beneficiaries, she is now involved in manufacturing and selling of bamboo baskets after getting financial support from the project.

Monika Mardi, wife of Philip Hemrom, has found the path of economic emancipation as she is earning Taka 5,000 per month on an average, also boosting her level of confidence.

"I bought a goat and invested some money in my bamboo work," she said, adding she has a goat of her own and income has increased at present than before.

"Poverty is very difficult, it is better to be able to earn a livelihood. This not only makes a person happy but also brings back the peace in the family", she said while talking to BSS here Thursday.

Akramul Haque said the project has been establishing market linkage between the beneficiaries and the line departments for generating a market chain as well as value chain of the farm products.

Emphasis has been given on strengthening coordination and collaboration among the project stakeholders and local authorities.
He said the project is intended to enhance sustainable livelihoods and climate resilience through economic and social empowerment.

They are also working on improving waste management for alternative livelihoods and reducing environmental degradation.

Dora Chowdhury said they are putting in their level best efforts to help improve social inclusion and human rights situation of indigenous and other marginalized communities as long term impact.