Tri-annual conference of Khulna city and dist units of Juba League tomorrow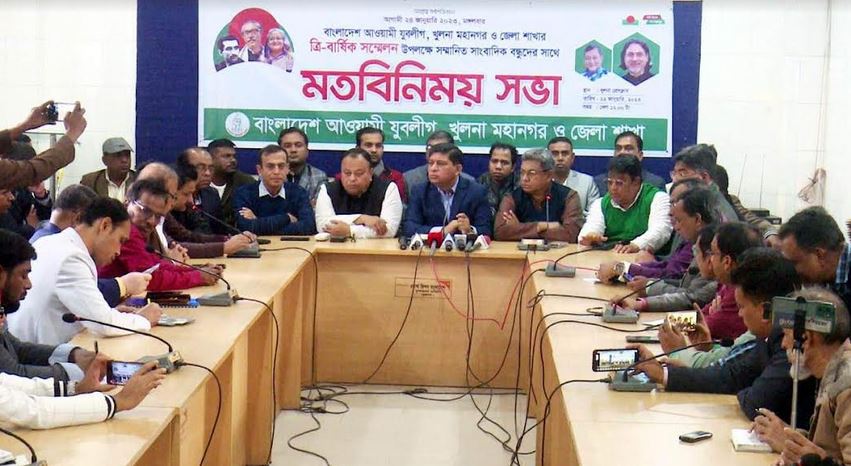 KHULNA, Jan 23, 2023 (BSS) – The Tri-annual conference of Khulna City and District units of Bangladesh Awami Juba League, an affiliated front of Bangladesh Awami League, will begin at Khulna Public Hall premises here tomorrow.
Earlier, the Central Juba League announced January 24 for the conference of its Khulna City and District units.
The 101-member convening committee of the City Juba League was formed on January 6, 2018 with Shafiqur Rahman Palash and Shahajalal Sujon as its Convener and Joint Convener respectively.
Meanwhile, the convening committee of District Jubo League was formed on May 25, 2003with Kamruzzaman Jamal and Akteruzzaman Babu as its president and general secretary respectively.
Chairman of Bangladesh Awami Jubo League Sheikh Fazle Shams Parosh is expected to inaugurate the conference while Sheikh Helal Uddin, MP, nephew of the Father of the Nation Bangabandhu Sheikh Mujibur Rahman, will attend the conference as chief guest and Mainul Hossain khan Nikhil, general secretary of the party will present as key speaker.
Pijush Kanti Bhattchariya, AL Presidium member, Mayor of Khulna City Corporation (KCC) Talukder Abdul Khaleque , AL organizing secretaries B M Mozammel Haque, S M Kamal Hossain, State minister for Labour and Employment Begum Monnujan Sufian, Sheikh Salahuddin Juwel, MP and adv Gloria Jharna Sarkar, MP, will present as guests of honour.
Meanwhile general secretaries of Khulna district and city units of AL Adv Sujit Adhikary, MDA Babul Rana, Panchanan Biswas, MP, Naryan Chandra Chanda, MP,
JuboLeague presidium member Sheikh Sohel Uddin, Mujibur Rahman Chowdhury Nixon, MP, Aktaruzzaman Babu, MP, Salam Murshedi, MP, executive members of Jubo League Barrister Towfiqur Rahman Sujon and Dr Ashiqur Rahman Shanta will present as special guests.
According to the Central Juba League sources, the leaders interested in becoming the President-General Secretary for the Khulna District and City unit last year were asked to submit their CV at the Juba League's central office at Bangabandhu Avenue, applications were received over 50 candidates for the post of District and Nagar Juba League president and general secretary. The officials have completed the verification and selection of these applications through various intelligence agencies.
"We want competent leadership of the wing to make the organization more dynamic," said Subrata Paul, Joint secretary of central Jubo League told BSS today.
He also said Jubo League Chairman will announce the names of presidents and general secretaries' of city and district units Jubo League at the council session.
Khulna City is now wearing a festive mood marking the tri-annual council of Jubo League tomorrow.