RAKUB works for ensuring food security relentlessly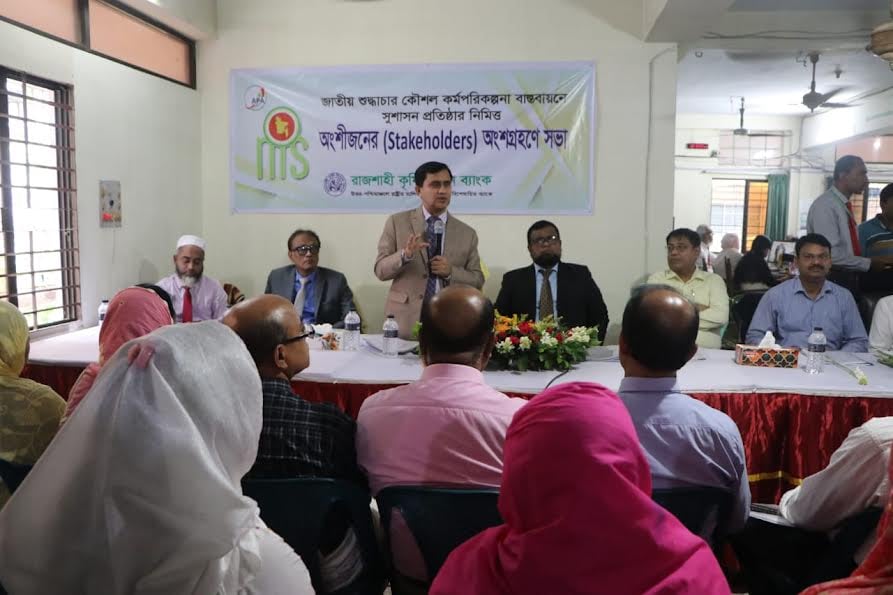 RAJSHAHI, Sept 22, 2023 (BSS)- Rajshahi Krishi Unnayan Bank (RAKUB) has been
working relentlessly for boosting productivity of both agriculture and agro-
based industries together with ensuring food security in the country's
northwest region.

The state-owned specialized commercial bank has also been working with
sincerity and honesty for elevating the fate of the public in general under
the region consisting of all 16 districts in Rajshahi and Rangpur divisions.

RAKUB hierarchies came up with the observation while sharing views with
stakeholders at its Rajshahi branch here Thursday.
The Department of Money Laundering, Terrorists Financing Prevention and
Branches Control of the bank organised the stakeholders meeting for
implementation of National Integrality Strategy (NIS) in the Rajshahi branch.
Managing Director of the bank Niranjan Chandra Debnath addressed the meeting
as the chief guest while its Deputy Managing Director Abdur Rahim and General
Managers Shawkat Shahidul Islam spoke as special guests with General Manager
Atikul Islam in the chair.
Niranjan Chandra Debnath said they have been strengthening the agro-based
economy through financial investment as they are providing loans to the
grassroots farmers to supplement the government efforts of making the country
self-reliant in food production.
Through its 383 branches at present, RAKUB has been operating its activities
as the largest development partner in all the two divisions targeting the
agricultural sector and all its sub-sectors.

As the largest development partner in agriculture as well as agro-based
industrial sector of northwest Bangladesh, currently, the bank has adopted
the effective work plan which is being implemented at the grassroots-level to
attain all the targets within the stipulated time.

RAKUB has not only developed the agricultural sector in the country's
northwest region but also played a vital role towards its industrialisation.
Giving an illustration of the present government's achievements in various
development sectors, Niranjan Debnath said the government has been
implementing diversified programmes to establish good governance in service
delivery activities.

He said there are five good governance tools related to National Integrality
Strategy (NIS), Right to Information (RTI), Citizen Charter, Grievance
Redress System (GRS) and Annual Performance Agreement (APA).
In addition to infusing dynamism into the public services, transparency and
accountability are being ensured in the services, including recruitment in
government jobs, benefiting the service recipients as a whole.

The use of the NIS tool has started to make public service deliveries vibrant
because it has brought a new dimension as a result of engaging people in the
service delivery process.