Genex Infosys Ltd receives 'Principal Recognition Award'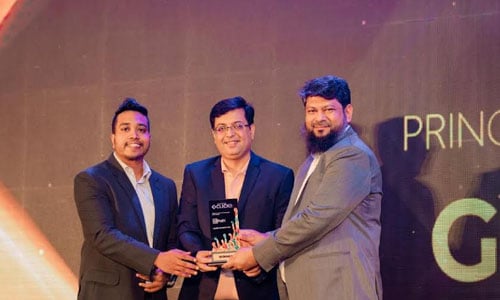 DHAKA, Sept 21, 2023 (BSS) - Genex Infosys Limited, a leading IT solutions provider in Bangladesh, has been honored with the "Principal Recognition Award" from its esteemed technology partner, UiPath at the EGUARDIAN Annual Partner Conference - "Click 2023" held recently in Sri Lanka.
This award is a testament to Genex Infosys's unwavering commitment to delivering innovative RPA technology solutions to its clients across diverse industries in the country.
Shahjalal Uddin, MD (Acting) & CEO of Genex Infosys Limited, said "Undoubtedly, this recognition is yet another significant milestone for Genex Infosys. This achievement will serve as an inspiring catalyst, motivating us to continue assisting our clients in becoming future-ready to thrive in the era of the Fourth Industrial Revolution."
Abu Taiyab, chief operating officer (COO) of Genex Infosys Limited, said, "We're truly delighted to receive this prestigious award from UiPath. This recognition reinforces our dedication to delivering cutting-edge RPA solutions to clients, across industries like BFSI, government, healthcare, logistics, manufacturing, retail, and telecom to excel in the digital era."
Genex Infosys Limited has consistently demonstrated its commitment to excellence, innovation, and customer satisfaction, making it a leading force in the IT industry in Bangladesh.
This award from UiPath further solidifies the company's reputation as a pioneer in delivering transformative technology solutions to businesses across various sectors.