'Bangladeshi Immigrant Day & Trade Fair' begins in NY tomorrow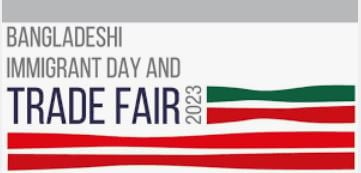 DHAKA, Sept 21, 2023 (BSS) - The 'Bangladeshi Immigrant Day and Trade Fair-2023' will start tomorrow in New York focusing on 'Smart Bangladesh'.
With the theme 'Exploring opportunities towards Smart Economy', Muktdhara New York and USA-Bangladesh Business Links, in association with the Greater New York Chamber of Commerce, are organising the event at the New York Hilton Midtown Hotel, said a press release here today.
A 16-member delegation, led by Commerce Minister Tipu Munshi, is expected to take part in the two-day event.

The other members of the Commerce Ministry team will include Additional Secretary of the Commerce Ministry Md Abdur Rahim Khan, Director of the Export Promotion Bureau (EPB) Mohammad Shahjalal and Director of the Federation of Bangladesh Chambers of Commerce and Industry (FBCCI) Priti Chakraborty.
Foreign Minister Dr AK Abdul Momen, Prime Minister's Economic Advisor Dr Mashiur Rahman, Prime Minister's Power, Energy and Mineral Resources Advisor Dr Tawfiq-e-Elahi Chowdhury, former Bangladesh Bank governor Dr Atiur Rahman and Governor of New York State Kathy Hochul, among others, are also expected to take part in the event.
Besides, over 50 eminent personalities from different sectors of Bangladesh, including business and banking are participating in the show.
Founder of Muktdhara New York, Biswajit Saha said that the event is designed to be a perfect amalgamation of Bangladeshi trade and culture aiming at facilitating USA-Bangladesh bilateral trade by bringing noted delegates from the USA and Bangladesh along with business conglomerates and investors.
Biswajit said apart from stalls of Bangladeshi products, there will be a seminar on the export of Bangladeshi products to America and IT-related seminars for American mainstream businessmen.
He informed that alongside the event, "Bangladesh Remittance Fair" will also be held at the same place to increase remittance flow from USA to Bangladesh.
Biswajit Saha said a number of banks, mobile financial services, remittance related app services, money exchange houses and remittance channel partners will participate in the expo.
He informed that IFIC Bank PLC Managing Director and CEO M Shah Alam Sarwar, Managing Director and CEO of the Islami Bank Bangladesh Limited Mohammed Monirul Moula, Managing Director and CEO of the Standard Bank Limited Md Habibur Rahman and Managing Director and CEO of the Social Islami Bank Limited Zafar Alam will join the event.
Top 300 remittance senders will be invited to the event, and the best 10 will be given remittance awards, he added.