Nagad becomes a billion-dollar company in 3 years: Palak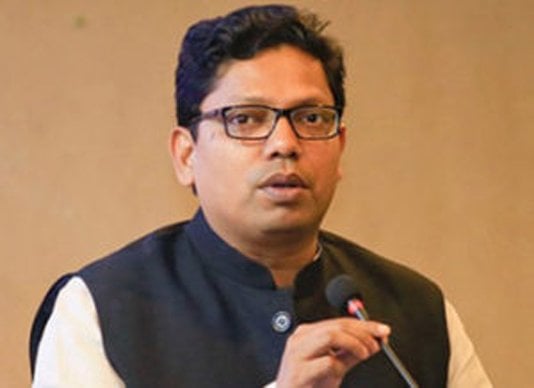 DHAKA, June 10, 2023 (BSS) - State Minister for ICT Division Zunaid Ahmed Palak has said that Nagad, a leading mobile financial service provider in Bangladesh, has grown into a billion-dollar company only in the first three years of its journey.
The state minister made the remark during his inaugural speech as a special guest at a two-day "Smart Bangladesh Summit and Expo" that began at the International Convention City Bashundhara yesterday, organized by Junior Chamber International (JCI) Bangladesh.
"It took 40 years for Beximco Group to become a billion-dollar company and bKash needed 12 years to reach that milestone, while it took Nagad only three years to reach that feat," he noted.
"At least five more unicorns [billion dollar startups] will emerge in Bangladesh by 2025. Honorable Prime Minister Sheikh Hasina has given us a solid foundation where talented, courageous and problem-solving entrepreneurs can lead the world from Bangladesh in doing business," Palak also said adding that Nagad leads by example as it has emerged as a billion-dollar company in just three years of its inception.
Nagad, a mobile financial service of Bangladesh Postal Department, embarked on its journey on March 26 in 2019. At the outset, it shook the entire financial industry by innovating electronic know-your-customer (e-KYC). In the e-KYC system, customers can open an MFS account using their smartphone in less than a minute just by taking a photo of their national identity card and a selfie.
Later, the state-owned MFS operator came up with an even easier way to open an MFS account just by dialing *167# on a feature phone. The ground-breaking innovations have brought an end to cumbersome paperwork.
Other MFS operators and financial institutions have also adopted the Nagad-innovated e-KYC system and thus reduced their operational costs to a great extent.
Nagad's success reflects its use of state-of-the-art technologies that allow the delivery of various services at minimal charges. In some cases, Nagad provides its customers with free of cost services.
Nagad now has a series of plans lined up with a view to speeding up Bangladesh's transition to a cashless society.
In four years of its journey, Nagad's registered customers now stand at 7.5 crore, with its daily transactions hitting more than Taka 1,200 crore on average.
In 2020, the mobile money carrier scooped the "WITSA Global ICT Excellence Award-2019" for its innovation of account opening just by dialing *167# on a feature phone.