Washington sweats over high-stakes vote to stave off default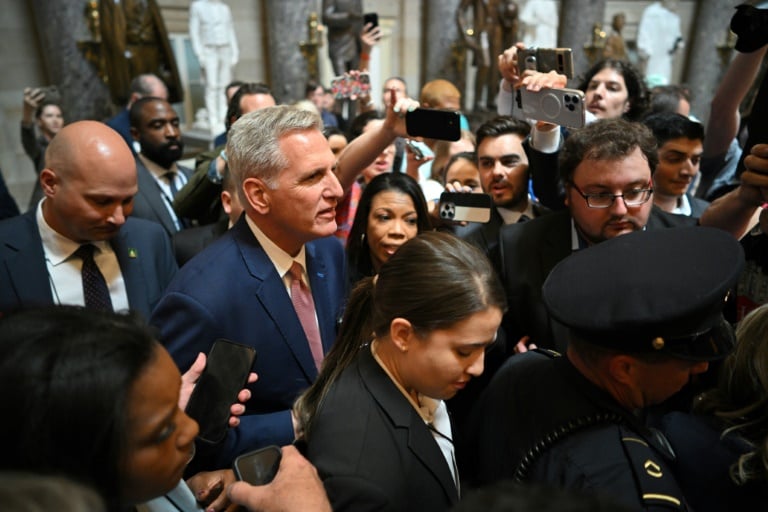 WASHINGTON, May 31, 2023 (BSS/AFP) - Congressional leaders were racing to secure backing for a cross-party deal to raise the US debt limit and avert a first-ever default as they faced a growing backlash from conservatives ahead of a crucial Wednesday evening vote.
Congress has just five days to green-light an agreement between Republicans and Democrats to allow more borrowing and ensure the country doesn't miss loan repayments -- sending the economy into a potentially ruinous nose dive.
The "Fiscal Responsibility Act" -- hammered out between Republican Speaker Kevin McCarthy and Democratic President Joe Biden over the weekend -- needs a simple majority to clear the 435-member House and head to the Senate.
But multiple Republicans have already announced their opposition -- angry that proposed spending cuts accompanying a two-year suspension of the debt ceiling fall far short of what they agreed in a bill passed by the House last month.
While McCarthy has described the deal as "transformational," Chip Roy, a leading figure in the hard-right Freedom Caucus, called it a "turd sandwich."
"Not one Republican should vote for this deal. It is a bad deal. No one sent us here to borrow an additional $4 trillion to get absolutely nothing in return," Roy said at a Freedom Caucus news conference Tuesday.
- Avoiding another crisis -
The floor vote is planned for around 8:30 pm (0030 GMT Thursday), according to a provisional House schedule.
The agreement would hold spending flat for 2024 while boosting cash for defense and veterans and clawing back $28 billion in unspent Covid aid money.
Crucially, it will then cap increases at one percent until the year after the presidential election, a win for Biden who would not have to go through a repeat of the crisis at the height of his reelection campaign.
It would increase work requirements on federal food stamp recipients and welfare safety net programs, but does not make the sweeping reforms to government health insurance that Republicans had pushed for.
Party strategists were bullish that the grousing from the right did not represent a consensus within the broader party.
"Members from all across the conference shared their support for this important bill" during a party meeting late Tuesday, Republican Conference Chair Elise Stefanik told reporters after a key panel, the House Rules Committee, advanced the bill to a floor vote.
"This is a win for the American people and future generations," she said, calling it "a historic step to restoring fiscal sanity and holding Washington accountable."
But a bloc of at least 20 conservative Republicans have announced they will oppose the compromise, accusing McCarthy of caving to the White House and ensuring he will need to rely on Democratic votes to get the deal over the line.
Freedom Caucus chair Scott Perry told reporters the bill "fails completely", while fellow House Republican Nancy Mace said she was voting no because "playing the DC game isn't worth selling out our kids and grandkids."
- 'Keep moving forward' -
Congressman Dan Bishop told reporters he had "zero" confidence in McCarthy and threatened to push for his ouster, accusing the party leader of "lying" over the contents of the deal.
Any single lawmaker can introduce a "motion to vacate the chair" -- a concession McCarthy offered the Republican hard right in return for their support for his speakership election in January.
Assuming it gets to the House floor, the bill needs 218 votes, with Republican leadership bracing for somewhere between 40 and 60 of their 222 members defecting.
On the left, lawmakers have voiced frustration over the new work requirements that would kick into federal aid programs while corporations and the rich are being asked to pay no more in taxes.
The left-leaning Center on Budget and Policy Priorities said in a statement the agreement was a "significant improvement" over the House-passed bill but complained it would leave older, low-income Americans hungry and "should be rejected."
Democrats appear to have enough support however to bail out McCarthy if he faces a sizable rebellion.
Among the conservative advocacy groups, the Heritage Foundation urged House Republicans to "go back to the negotiating table" while the Club for Growth suggested it would single out Republicans supporting the bill for poor marks in its "congressional scorecard."
Biden, who has tried to counter progressive angst over the deal by emphasizing that "not everyone gets what they want," urged Congress Tuesday to "keep moving forward on meeting our obligations and building the strongest economy in the history of the world."