Speakers for exploring untapped potential in SAARC region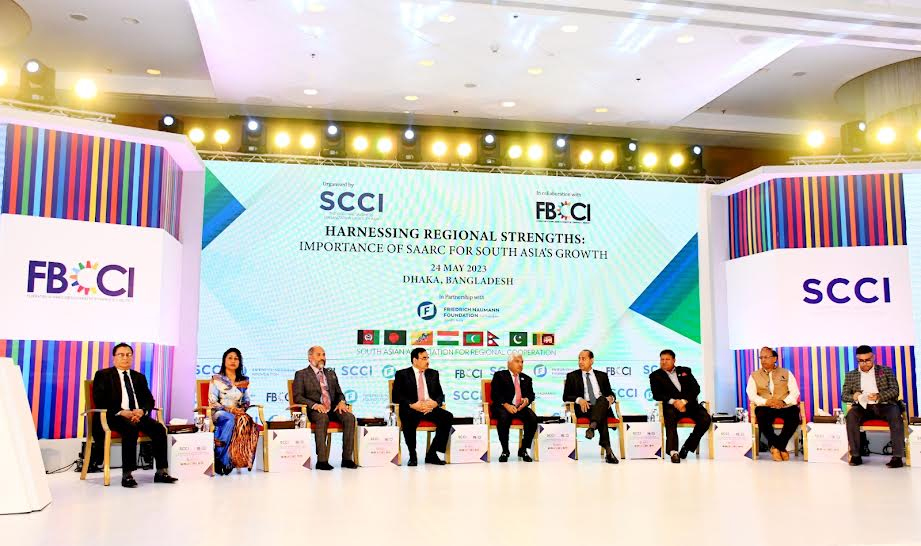 DHAKA, May 24, 2023 (BSS) - Speakers at a conference today laid emphasis on exploring the vast untapped potential in SAARC region.
They observed that the SAARC has low intra-regional trade of five percent which means there is still vast untapped potential.
It is more important than ever we must recognize the significance of using our regional strengths and working together towards a common vision in a rapidly changing world, they opined.
They made the observation at the conference on 'Harnessing Regional Strengths: Importance of SAARC for South Asia's Growth' held at the Hotel Intercontinental in the city.
In his speech, FBCCI President Md. Jashim Uddin the private sector holds the key to unlocking this opportunity by venturing into new markets, diversifying product portfolios, nurturing cross-border business collaborations, and removing trade barriers including NTBs.
Setting up B2B mutual trade Facilitation committee of the SAARC Chamber of Commerce and Industry may be established for support, he added.
FBCCI President mentioned that the world is witnessing significant shifts in the global economic landscape.
"South Asia has a unique opportunity to position itself as a major player in the global trade and investment arena. The region is also blessed with immense resources, a young and talented workforce, and a growing consumer market. By rethinking our regional integration strategies, we can leverage our relationship to new heights," he added.
He said SAARC CCI needs to activate its working groups and strengthen its capacity to in driving business conducive initiatives including transport and logistics infrastructure, or harmonizing trade procedures, or promoting digital connectivity, or regional supply chains and private service sector collaborations including tourism, he added.
Md. Jahsim Uddin said that considering the close ties between Bangladesh and India for the geographical position, the two countries have huge potential to grow business.
"We call upon both the Governments of Bangladesh and India to enable an extension of LDC treatment to Bangladesh even after its graduation in 2026 up to the enforcement BD-India CEPA," he added.

Md. Jashim Uddin said that Bangladesh's growth trajectory and development success as an emerging strong middle-income country under the leadership of the Prime Minister can offer several complimentary advantages to our South Asian counterparts.
The private sector is keen to explore business collaborations in manufacturing, agro-processing, industrial machinery, clean energy, ICT, and FMCG among others with value chain linkages and market prospects, he added.
During his welcome speech, FBCCI Senior Vice President Mostofa Azad Chowdhury Babu said that with promising ties among the 8 member countries, SAARC has the potential of being one of the most dynamic and emerging regions in the world.
At present the region has consistently high growth as many countries and regions of the world tackle their slow-paced economic growth, he added.
"Cross-border investments, simplifying customs procedures, and developing efficient logistics networks within SAARC can facilitate trade. We may closely work with the apex trade bodies and initiate country-specific and regional programs for improving the economic cooperation and capacity building of our SME's sector and tapping the potential of women-led SMEs for regional trade," he added.
Former President of SAARC CCI (Sri Lanka) Ruwan Ediringehe said "SAARC nations have all 4M (Manpower, Market, Money and Materials), we are yet to utilize it. SCCI has deliberately failed from last decade to pressurize their national chamber to enhance trade between the region.
We need to take necessary actions to minimize those barriers."
Vice President of SAARC CCI (from Pakistan) Anjum Nisar said that Other regional associations like EU, ASIAN, NAFTA are doing very good and they are getting regional benefit but it's still unfortunate for us, that we couldn't utilize SAARC till now.
"We have huge potential in the area of tourism, agriculture, fisheries, industries, human development and many more. It's time we push the govt. of each country to seize the untapped opportunity in this region," he added.
Deputy Head and Senior Economic Affairs Officer at UN ESCAP South and South-West Asia Office Dr. Rajan Sudesh Ratna was present as the guest speaker.
The program was moderated by Dr. M. Masrur Reaz chairman of the Policy Exchange of Bangladesh.
Former Cabinet Minister of the Government of Maldives Mariyam Shakeela, Former President of SAARC CCI (Sri Lanka) Ruwan Ediringehe, Vice President of SAARC CCI (Nepal), and Past President of the Federation of Nepal Chamber of Commerce & Industry (FNCCI) Chandi Raj Dhakal, Vice President of India -Bangladesh Chamber of Commerce & Industry (IBCCI)Sanjay Basu, EC Member of Afghanistan Chamber of Commerce and Industry Janaqa Siddiqui and others business leaders were present at the program.