Decision to import onions considering farmer, consumer's interests: Razzaque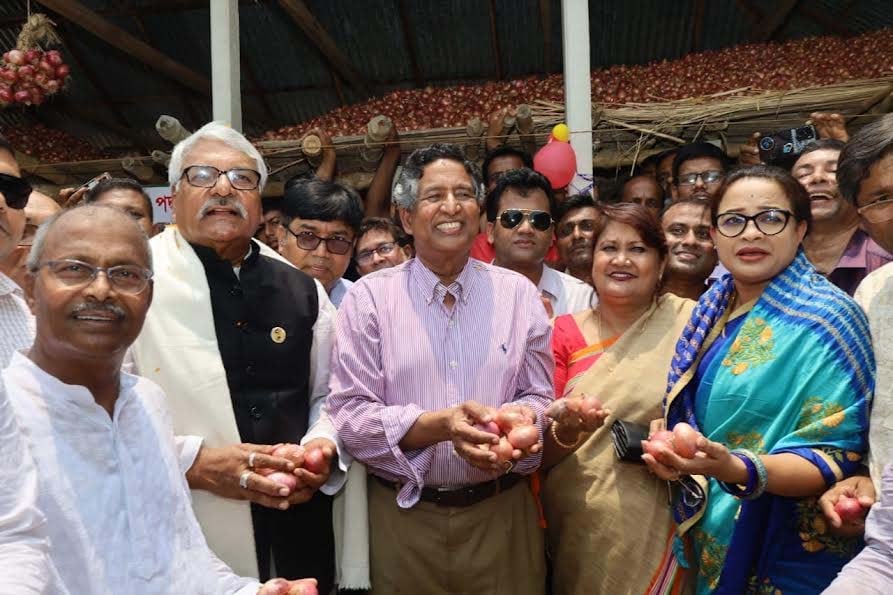 PABNA, May 23, 2023 (BSS) - Agriculture Minister and Awami League (AL)
Presidium Member Dr Md Abdur Razzaque today said the government will take
decision to import onions considering the interests of all, specially farmers
and consumers, within a few days.
"The decision to import onions will be taken considering the interests of all
including farmers and consumers within a few days," he said while
inaugurating the "domestic model onion and garlic storage house" at Purba
Banoram under Santhia upazila here.
The minister added: "If onions can be preserved perfectly . . . The existing
onions crisis will be removed and politics related to onions will be stopped
subsequently."
Noting that the country produces more onions than the demand but due to one-
third of the production being wasted which leading a shortage, he said the
existing onion prices are abnormal and various kinds of politics are started
with regard to this.
The minister said, "The onions are a very perishable crop. It's hard to keep
up. Onions cannot be stored. It dries and rots. So, the farmers usually sell
onions at low prices during the season. At the end of the season, the onion
market is in the hands of importers, traders and syndicates."
Considering all these adverse situations, Razzaque said the authorities
concerned launched this experimental onion storage room, where onions can be
stored for 4-5 months.
"If it is become successful, there will be no onion shortage in the country .
. . It will not necessary to import, rather it can be exported," he
mentioned.
The minister said a letter has been sent to the ministry of power to consider
subsidizing the electricity used in onion conservation model houses or
agriculture sector.
Deputy Speaker of Jatiya Sangsad (JS) Advocate Md Shamsul Hoque Tuku, MP,
Secretary of Agriculture Ministry Wahida Akhter, Director General (DG) of
Agriculture Marketing Directorate Md Masud Karim, DG of Agriculture Extension
Department Badal Chandra Biswas, DG of Rice Research Institute Shahjahan
Kabir and DG of Atomic Agriculture Research Institute Mirza Mofazzal Islam
,among others, were present on the occasion.