EU support sought for sustainable economic growth of Bangladesh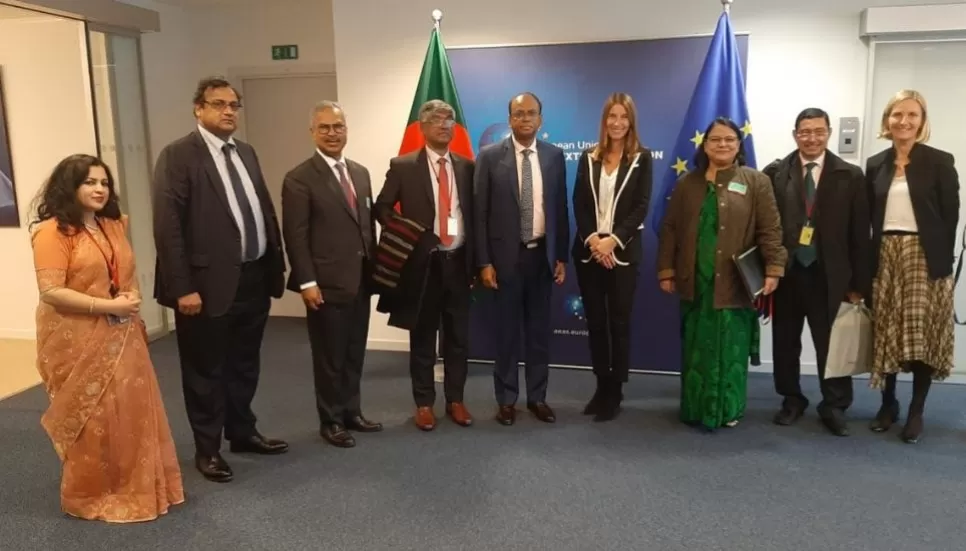 DHAKA, March 31, 2023 (BSS) - The support and cooperation of the European Union would remain vital for Bangladesh in its pursuance of sustained economic growth in the post-LDC era.

The EU is an indispensable trade and development partner of Bangladesh, and its trade preference under GSP scheme helped Bangladesh to secure big export share in the EU countries, which has contributed a lot in achieving the threshold requirement for LDC graduation.

The continued trade preferences under the EU's GSP would contribute to making the LDC graduation smooth and sustainable.

A delegation led by Mohammad Tofazzel Hossain Miah, Principal Secretary to the Prime Minister of Bangladesh, made the observations during a meeting with Helena K"nig, Deputy Secretary General for Economic and Global Issues, European External Action Service (EEAS) and Monika Bylaite, Deputy Head of Delegation, South Asia, EEAS, in Brussels yesterday.

Other members of the delegation were Commerce Ministry Senior Secretary Tapan Kanti Ghosh, Bangladesh Ambassador to Belgium Mahbub Hassan Saleh, Deputy Head of Mission Preeti Rahman, BGMEA President Faruque Hassan, former President of MCCI Nihad Kabir, and Commercial Counsellor Md. Saiful Azam, said a press release.

They discussed issues of mutual interests, especially LDC graduation, its possible implications on Bangladesh's trade and economy and Bangladesh-EU relations in the post-LDC era.

In the meeting, BGMEA President Faruque Hassan gave an overview of the apparel industry of Bangladesh, especially the vast progress made by the industry in the areas of workplace safety, environmental sustainability and workers' rights and well-being.

He said the trade preference under the EU's GSP scheme is one of the key factors behind the RMG industry's success.

The sector is now pursuing growth in a manner that is sustainable and has positive impacts on the economy, environment and the lives of people, he added.

The RMG industry is working and making investment in circular fashion with focus on recycling pre-consumer waste and upcycle post-consumer waste.

The continued trade preference after LDC graduation would help the industry of Bangladesh to pursue its sustainable development vision and prepare for the next phase of development, Faruque Hassan further said.