Dr Alam for forming taskforce to ensure gender equity, expedite development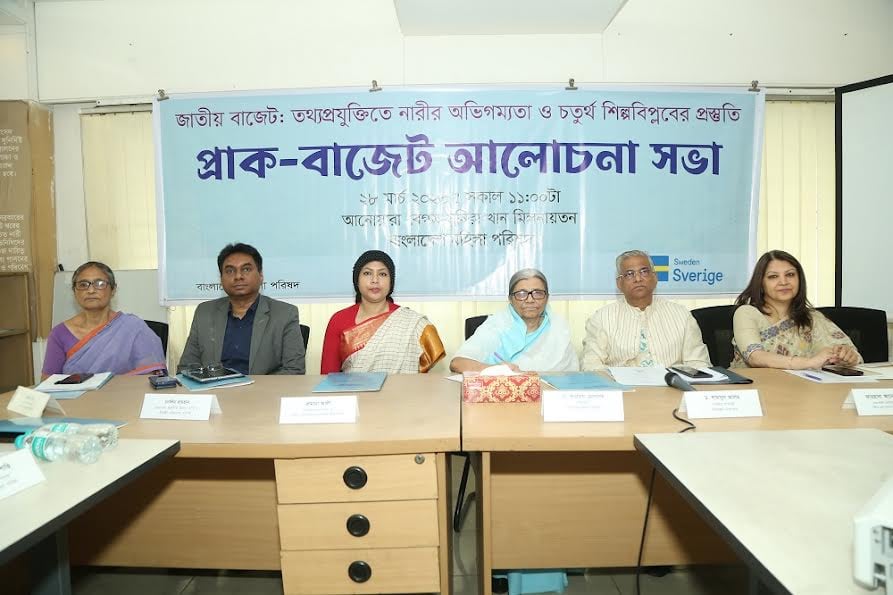 DHAKA, March 28, 2023 (BSS) - State Minister for Planning Dr Shamsul Alam today proposed for forming a taskforce to ensure gender equity between male and female in the mainstream of development and also to expedite the overall development spree.
The State Minister made the recommendation at a pre-budget meeting titled "Accessibility of women in ICT and preparations for the 4th Industrial Revolution" held at Begum Sufia Kamal Bhaban in the capital.
Organized by Bangladesh Mohila Parishad, its president Dr Fouzia Moslem presided over the meeting where parliamentary standing committee member on Ministry of Finance Rumana Ali, Dhaka University Economics Department Prof and SANEM executive director Dr Selim Raihan, and former vice president of BASIS and UY System Ltd CEO Farhana Anowara Rahman spoke as special guests.
Moderated by Andolon Editor Rabeya Khatun, Jahangirnagar University Economics Department Prof Shormindo Nilormi made the key-note presentation while Bangladesh Mohila Parishad general secretary Maleka Banu gave the address of welcome.
Noting that Bangladesh has advanced a lot in women empowerment over the last one and a half decade, the state minister said that separate budget is being framed for the womenfolk in some 44 ministries.
Despite this, he said that the budget could not be implemented fully due to various social, political perspectives. "For this, the government has taken initiative for forming a taskforce for full implementation of the gender budget, ensuring equity between male and female and thus expediting the overall development process," he added.
Dr Alam also stressed the need for ensuring human resource development irrespective of male and female for overall development of the state.
Speaking on the occasion, Prof Selim Raihan suggested for ensuring equal rights of women in the properties as well as equal access of male and female in the ICT.
Bangladesh Mohila Parishad president Dr Fouzia Moslem suggested for ensuring equal rights of male and female in the properties, ensuring equal partnership and increasing participation of women in the decision making process.