Gazi Golam Murtoza president, Al Mamun Mridha Secy. General of BCCCI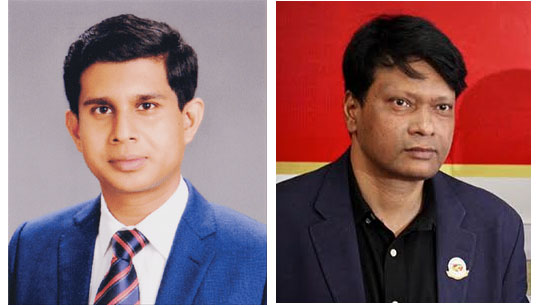 DHAKA, March 22, 2023 (BSS) - Gazi Golam Murtoza, Deputy Managing Director of Gazi Group, has been reelected as the president and Al Mamun Mridha, Managing Director of Mridha Business Ltd. has been elected Secretary General of Bangladesh China Chamber of Commerce & Industry (BCCCI) for the tenure 2023-25.
Md. Mursheduzzaman, chairman of the election board, declared the election results in a festive environment held at BCCCI office today.

The newly elected executive committee of BCCCI for the tenure of 2023-2025 also officially took over charge at a hand over ceremony at the BCCCI office in the capital today, said a press release.
Besides, Md. Shahjahan Mridha Benu, Chairman of Agro Business Ltd., was elected as Senior Vice President and Brig. Gen. (Retd) Shah Md. Sultan Uddin Iqbal, Managing Director, Lumbini Limited, A T M Azizul Akil David, Managing Director of Aridod Tech Serve Ltd. were reelected as Senior Vice Presidents of BCCCI.

Badrul Alam Khan, Director of Gazi Group, Mohammad Ishaqul Hossain Sweet, Proprietor of M/S Tohfa Enterprise, Md. Nizam Uddin Chowdhury, Chairman of Platinum Tissue & Paper Ind. Ltd. & Md. Shahid Alam, Vice Chairman of Shah Fatehullah Textile Mills Limited were also reelected as Vice Presidents.
Md. Faizul Alam, Managing Director of Savor International Limited has been elected as the Joint Secretary General of BCCCI.

The other Executive Committee members who have been reelected are: Meherun Nessa Islam, President & Group Managing Director of CEMS Ltd., Sk. Aminuddin (Milon), Director of Akij Group, Syed Aminul Kabir CEO of May International Trade Services Ltd., Li Xiao , Country Manager of Union Resources & Engineering Co., Ltd., Md. Monirul Islam, Managing Director MAAK FURNITURE LTD.

The newly elected Executive Committee members are: Mohammad Hafizur Rahman Khan, Managing Director of Univentures Limited, Khandaker Atiqur Rahman, Managing Director of ARK Consultant & Engineering Ltd., Md. Haroon Ur Rashid, Chairman of Hena Enterprises Limited, Arefeen Raafi Ahmed, Director of Techno Drugs Ltd., Kazi Newaz Ibne Mahtab, Senior Partner of Bowling Footwears and Zakir Uddin Ahmed, Chief Executive Officer of ZM International.
The new board expressed their keen commitment to uphold the efforts of Bangladesh and China trade and investment with dedication and sincerity. The board also thanked all the general members of BCCCI for being the most integral part and the main strength of BCCCI.