Barind region's guava to be sold in Dubai super shop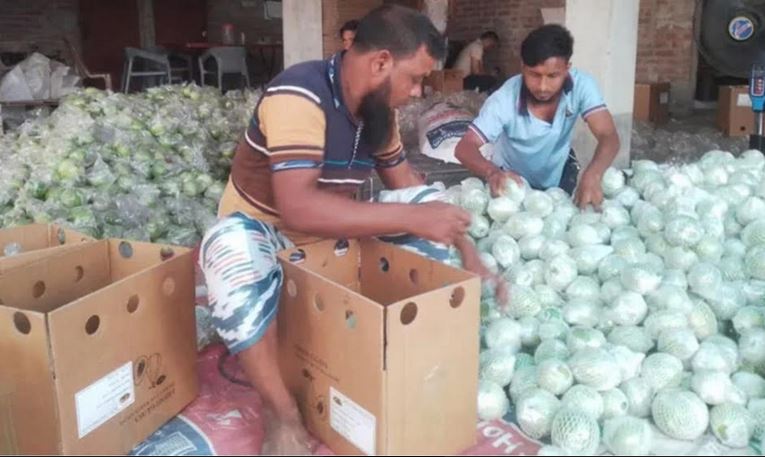 RAJSHAHI, March 20, 2023 (BSS) - Guava being produced at Kandua area at
Nachole Upazila in Chapainawabganj district has been exported to Dubai and
likely to be sold at super shop Lulu Mart.
Rafiqul Islam has exported 14 metric tons of guavas from his orchard through
Galaxy Fresh Product Limited. It's expected that the exported guavas will
reach the destination within the next 15 to 16 days.

Around five years back, he developed the orchard on 20 bighas of land
cultivating mango, guava and some other high-value crops. He also has a fish
farming pond there.
Agriculture entrepreneur Rafiqul Islam told BSS that 8,000 kilograms of
guavas were exported to Dubai earlier as demands of our product are more
there compared to other countries.
"We sell guava at Taka 1,400 per mound in local markets, while its price is
Taka 2,300 in the global market," he said, adding that Dubai people choose
Bangladesh's guava as its sweetness and taste is more compared to other
countries. So, our product is sold at a higher price.

Farmers are being imparted training besides providing them with other
requisite support on behalf of the local DAE office. There is also a bright
prospect of exporting more guava from the upazila.

Upazila Agriculture Officer Bulbul Ahmed said exporting 14 tonnes of guava to
Dubai market from the upazila is a good sign of encouraging the farmers
towards producing more quality and safe food.
Hemayet Hossain, General Manager of Galaxy Fresh Product Limited, said they
always export safe and quality products to the global market and the
consumers purchase their products at exorbitant prices.
Meanwhile, commercial farming of high yielding guava has been gaining
popularity in the region, including its vast barind tract, and char
(riverbed) areas of the Padma River as the farmers reap better yield and get
fair market price from the cash crop.

A large number of growers have attained financial solvency by growing the
fruit on their lands while Thai guava cultivation is expanding in the areas
for good market price bringing a new dimension in the local economy.

As a whole, the Thai guava farming has brought a smile on the faces of
grassroots farmers in the region this season.
"I have cultivated Thai guava on 45 decimals of land under Boraigram upazila
in Natore district this season," said Ruhul Ameen.

He has grown over 20 maunds of fresh yield and sold those at around Tk
50,000, he added.

Each kg of Thai guava is selling at Taka 95 to Taka 100 in the retail market,
while Taka 85 to Taka 90 in the wholesale markets across the region.
"We are providing all necessary support to the farmers to encourage them in
boosting production," said Shamsul Haque, Deputy Director of the Department
of Agriculture Extension (DAE).

Thai guava cultivation is playing an important role in improving socio-
economic conditions in the northern region, he said, adding the fruit has a
good demand everywhere in the region.
"I have a Thai guava orchard on two and half bigha of lands. I have been
harvesting guava from the orchard during the last couple of years and getting
a better yield," said Abdus Sabur, a farmer of the Char Saheb Nagar village
under Godagari upazila.
He said farmers of most of the char areas like Alatoly, Diar Manik Chalk,
Asariadaha, Mazar Diar, Taranagar, Khidirpur, Khanpur, Shyampur and Gargori
are seen cultivating guava along with other seasonal fruits and cereal crops
on commercial basis.
More than 105 hectares of land were brought under the guava farming only in
Char Mazar Diar village under Paba Upazila of the district, sources said.
Nazer Ali, another farmer said, "I have been gaining good profit cultivating
Guava on a commercial basis for the last several years".