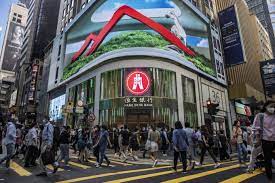 HONG KONG, March 20, 2023 (BSS/AFP) - Asian equities sank Monday following a sell-off in New York as investors fret over the financial sector, despite central banks' pledges to provide liquidity to troubled lenders and news that UBS had taken over embattled Credit Suisse.
The losses came ahead of the Federal Reserve's latest policy meeting this week, with speculation mounting that it will pause its interest rate hikes in order to provide some stability to markets.
The collapse earlier this month of regional lenders Silicon Valley Bank, Signature Bank and Silvergate has sparked fears of contagion across the industry as worried customers withdraw their cash.
The crisis led US authorities last week to promise support for other lenders and depositors, in a move aimed at preventing a run on banks.
Also, Wall Street titans including JP Morgan, Bank of America and Citigroup pledged to inject $30 billion into under-pressure lender First Republic Bank.
However, fears of another financial crisis flared again when the biggest shareholder in Credit Suisse, Switzerland's second-biggest bank, said it would "absolutely not" up its stake a day after its annual report cited "material weaknesses" in internal controls at the firm.
The lender later announced it would borrow nearly $54 billion from the nation's central bank to provide "support".
But that was not enough to lift confidence and on Sunday it was announced that UBS -- Switzerland's biggest bank -- would buy the firm for $3.25 billion following crunch talks in hopes of stopping a wider international banking crisis.
The deal was vital to prevent economic turmoil from spreading throughout the country and beyond, the government said.
The move was welcomed in Washington, Frankfurt and London.
Meanwhile, the Fed and the central banks of Canada, Britain, Japan, the European Union and Switzerland said they would launch a coordinated effort on Monday to improve banks' access to liquidity, hoping to calm worries.
The developments appeared to go down well in New York and Europe, where stock futures were in positive territory.
- Awaiting Fed decision -
But Asian traders tracked Friday's losses.
Hong Kong fell more than two percent, with heavyweight HSBC off four percent. That came even as the city's monetary authority said its banking sector had "insignificant" exposure to Credit Suisse.
Tokyo, Sydney, Seoul, Singapore, Taipei, Wellington, Manila and Jakarta were also in the red.
Still, Shanghai was higher after the Chinese central bank cut the amount of cash banks must keep in reserve, hoping to boost the country's economy.
Traders are now nervously awaiting the Fed's next policy meeting, which ends Wednesday.
They were already in a downbeat mood before the latest crisis erupted as they contemplated more rate hikes to rein in stubbornly high inflation.
There is a debate about whether it will continue lifting as the collapse of SVB has been widely linked to the sharp rise in borrowing costs over the past year.
Some observers expect at least one more increase but possibly a hold afterwards, while there is a growing belief that cuts could be announced before the end of the year.
But Gerard MacDonell of 22V Research said: "It is not at all clear that avoiding a rate hike would even help address the financial troubles in the banking system.
"For the Fed to hold off on Wednesday might send a signal of panic. It might also lead to a further intensification of inflation pressures and more bond market volatility down the road."
Data showing that bank borrowing from the Fed's discount window hit a record high of more than $150 billion for the week ending March 15 indicated stress in the sector, analysts said.
Oil prices nudged slightly higher but made very little headway in clawing back big losses suffered last week on worries about demand as traders fret over a possible recession.
- Key figures around 0230 GMT -
Tokyo - Nikkei 225: DOWN 0.8 percent at 27,106.34 (break)
Hong Kong - Hang Seng Index: DOWN 2.1 percent at 19,113.83
Shanghai - Composite: UP 0.3 percent at 3,261.36
Dollar/yen: UP at 132.27 yen from 131.80 yen
Euro/dollar: UP at $1.0678 from $1.0671 on Friday
Pound/dollar: UP at $1.2181 from $1.2174
Euro/pound: UP at 87.66 pence from 87.59 pence
West Texas Intermediate: UP 0.3 percent at $66.97 per barrel
Brent North Sea crude: UP 0.5 percent at $73.31 per barrel
New York - Dow: DOWN 1.2 percent at 31,861.98 (close)
London - FTSE 100: DOWN 1.0 percent at 7,335.40 (close)